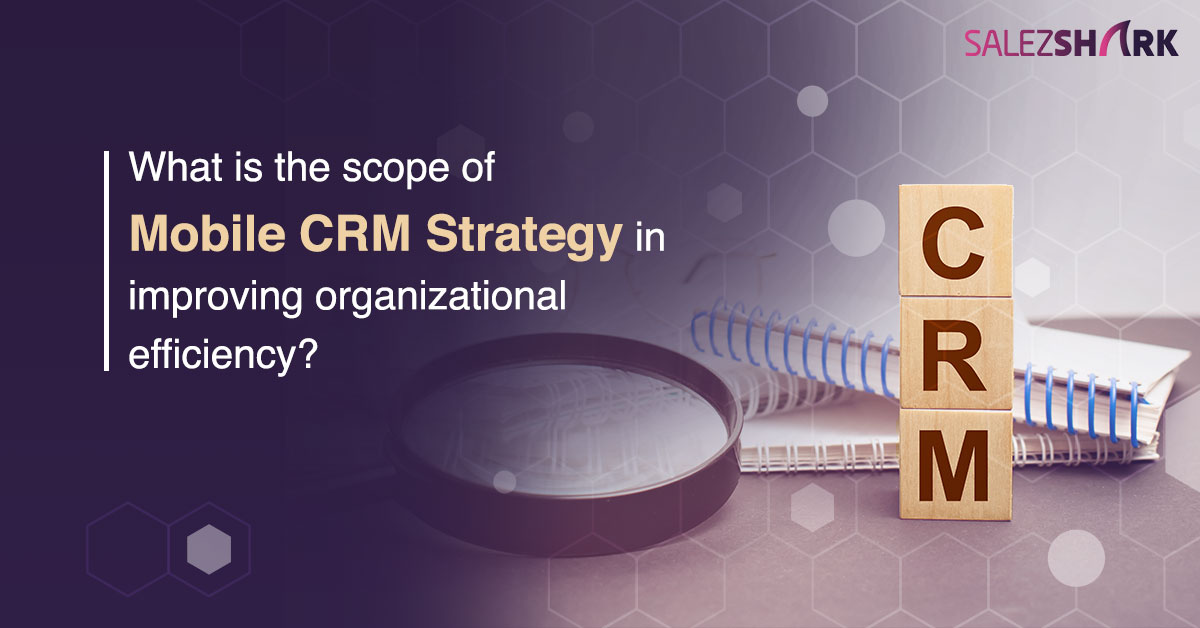 Mobile CRM Strategy:- As the technology gets revolutionalized with time, the migration of internet users from desktop to mobile devices has also increased. This implies that now anyone can access real-time information from anywhere within seconds. It is also one of the major reasons behind increasing global internet traffic in the last few years. Effective CRM software has helped to accomplish this to a great extent in the business world. This is where mobile CRM software comes into the picture that allows small and medium enterprises to access essential business data and manage strong customer relationships from anywhere and anytime. 
What is a Mobile CRM?
Your sales staff will access customer data via a mobile CRM app or a web-based browser with cloud CRM if you connect using mobile CRM. One of the most important advantages of this CRM is that it allows your sales team to access real-time data while meeting with prospects and customers.
The majority of your clients are likely to interact with your business via mobile devices. Global internet traffic for mobile devices increased from 4.7 percent to -50.03 percent between 2011 and 2020, and it is still growing. This traffic includes field agents, sales team members, and workers who require constant corporate data access. You'll need a solid mobile CRM strategy to satisfy these rising demands.
Field service workers, customer care representatives, and salespeople may manage client connections efficiently from anywhere with this CRM.
Let's take a closer look at why implementing a mobile CRM strategy will benefit your company.
Real-time solutions 
Because meeting customer wants efficiently supports your firm's success, you'll be able to meet your clients' needs at all times if you invest in SalezShark CRM. It allows you to reply to time-sensitive inquiries, requests, and complaints rapidly. Your company may increase client loyalty and attract additional prospects by providing prompt customer service and immediate solutions.
Improved Productivity
Mobile CRM improves your organization's overall efficiency by providing much time-saving and cost-effective functionality. Your sales staff will provide individualized service to satisfy all of your clients' demands since they will have instant access to the most up-to-date customer information. 
CRM software also lets you make Gantt charts, which are helpful for managing and monitoring completed tasks. As a result, mobile CRM aids in maximizing productivity.
Drive High Sales
When compared to those who don't, businesses that use CRM close more deals. According to a study, companies who use mobile CRM increase their sales objectives by 65 percent. CRM systems deliver vital customer data to your salespeople, allowing them to spend less time searching for information. 
This frees up the sales force to spend more time talking with customers and maintaining existing connections. This will not only help you avoid missing out on future possibilities, but it will also help you gain new clients and increase your revenues.
High Lead Conversion
Another reason why SalezShark CRM software is so important for your company is that it aids in increasing conversion rates. Because CRM allows your rapid personnel access to client information, this is achievable. Making real-time reports, adding every client interaction data from anywhere, booking appointments faster, and so on are all achievable with such systems. 
All of this enables you to respond quickly to your clients' needs, resulting in a greater conversion rate.
Better Time Management
Your firm may also track every piece of data submitted and action done by your sales reps using mobile CRM. You'll also be able to evaluate your employees' performance with the help of performance evaluation templates. It will be much simpler to keep track of every piece of updated data and every action that is made, freeing up a lot of time to focus on other vital tasks.
Maintain Competitive Advantages
To get an advantage over their competition, most organizations have already begun to embrace SalezShark mobile CRM. You'll be missing out on a lot of chances if your company hasn't already done so. You'll create stronger relationships since CRM solutions for mobile devices allow you to keep connected with your clients from anywhere. 
It also gives you instant access to client data, allowing you to create a more tailored customer experience.
Organized Workforce
Your sales teams' data quality may be improved by using CRM. If salespeople have to wait until they go to the workstation to update the data, they are more likely to forget anything. On the other hand, CRM allows you to update any new information while on the go. 
Mobile CRM solutions enable organizations to establish a more connected workforce by eliminating the requirement for workers to be present in the same place to work together.
Assistance in creating successful Marketing Initiatives
CRM can also help businesses create efficient marketing initiatives. Your organization may send targeted campaigns to personal devices using SalezShark mobile CRM. You may also generate push alerts to notify customers about new specials, which can improve conversion rates. 
These mobile solutions assist organizations in closing sales, enhancing data access, receiving immediate feedback, and providing a superior customer experience.
Hands-on Project Management
Managing numerous projects outside of the office or workstation is nearly difficult. However, with SalezShark mobile CRM, you'll be able to handle tasks more efficiently while on the go. Unlike traditional CRM solutions, CRM eliminates the requirement for your sales force to be in the office or at a workstation anytime new client information is collected.
It allows you to examine, evaluate, and use all documents using a single mobile application thanks to cloud-based sharing and file storage. It will enable businesses to manage various projects, coordinate schedules, and assign resources from anywhere.
Obtain Useful Information
This CRM app is incredibly scalable. You may use them to optimize your sales operations and gain actionable data that can be used to provide clients with more tailored services. 
Furthermore, the platform maintains every aspect of your customer's history and interactions with your firm. As a result, SalezShark mobile CRM systems assist firms in making educated decisions, resulting in more customer-centric marketing initiatives.
Your company will be able to strengthen client interactions by implementing an efficient SalezShark mobile CRM strategy. This will assure consumer loyalty, which will result in increased conversion rates and, as a result, more earnings. It's past time for your company to embrace CRM.