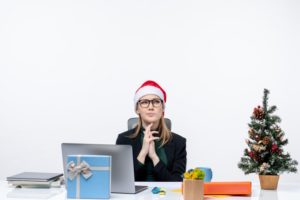 Christmas & New Year is right around the corner. Now is the time to focus and determine your sales and marketing plans for the year 2021. So, do you have any sales and marketing strategy planned to make the most out of this holiday season? If not, then SalezShark is here to help you in leveraging the power of CRM into your business with a wide range of features in the SalezShark Pro & Enterprise plan that include a leaderboard, multiple dashboards, email sync, sales forecasting, lead management, target assignment, and many more features. Let us look at how SalezShark CRM can help your business this Christmas & managing leads seamlessly.
Get rid of manually identifying and capturing the leads. Introduce the power of SalezShark CRM automation into your lead capturing process that empowers you to capture leads automatically from multiple sources like websites, social media portals, etc. by signing-in on a unified portal rather than signing-in on different portals saving your time.
Lead Tracking
Track your leads effectively by keeping a track of all activities performed on captured leads such as chat, calls, emails, product demos, and so on. SalezShark CRM also helps you in knowing the activities performed by leads such as the no. of pages visited by leads, the web forms filled by leads, & so on.
Lead Scoring
Get a lead score by setting any rule or parameter for captured leads, helping you to understand the chances of those leads converting into paying customers. Based on the lead score you can easily prioritize your leads and plan follow-ups, product demos with leads accordingly.
Lead Distribution & Assigning
Save yourself from the hassle of manually distributing and assigning the leads that leave the room for human errors. Moreover assigning leads manually to individual agents is a tedious and time-consuming process. Automate this process with SalezShark CRM; distribute and assign the leads automatically to the sales agents based on any rule or filter set by you.
Lead nurturing is a crucial part of your lead management process where a major chunk of leads might fall out if leads are not nurtured properly. Here SalezShark CRM helps you to make this process effective by helping you to create & drive highly personalized email marketing campaigns that resonate with the needs and pain points of leads and generate curiosity among them to buy from you.
Lead Conversion
Last but not least is converting leads into deals. SalezShark CRM offers you an option to create a Sales Funnel that empowers you to arrange all captured leads into it based on interactions made. The pictorial view of all leads together helps you to focus on all leads and the chances of missing any lead become negligible. Hence, lead conversion gets better.
So, don't wait anymore and grab the exclusive Christmas offers on CRM software. SalezShark Christmas CRM deals are out now where you can avail of an awesome deal of lifetime 50% off on SalezShark Basic plans. Simply sign-up for a free trial account and get connected with our CRM sales experts to help you with the most appropriate package that resonates with your business requirements. Scale-up your holiday sales by availing of the best deals of Christmas offer.
Merry Christmas!