Artificial Intelligence (AI) is the most buzz word nowadays, right from asking Siri to play a song to Netflix recommending what to view next. Apart from modern-day conveniences, Artificial Intelligence (AI) also plays a vital role in lead generation for businesses. In most of the organizations, it has been observed that between the sales and marketing teams, there is a lack of coordination and ample of disagreements on the status of leads. Many times marketers think that a lead is perfect and pass it to the sales team, but as per the sales team that particular lead is not a qualified lead, this causes a lot of friction between the sales and marketing teams. To overcome this lack of coordination and disagreements, Artificial Intelligence (AI) acts as a savior to establish sync between the sales and marketing teams.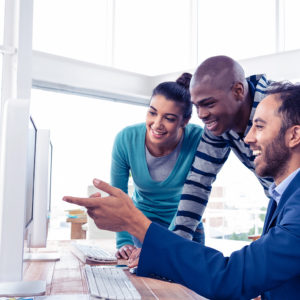 Artificial Intelligence (AI) offers a plethora of benefits in B2B marketing. Artificial Intelligence (AI) can fetch positive leads to sales that suffice marketing as well, and making sure that the prospects are targeted for the correct platforms. Let us look into a few benefits of Artificial Intelligence (AI):
Channelize Engagement Process
Contacting and engaging with new leads is not an easy process; it takes a lot of time and effort to build connections. Generally, the sales and marketing team devote hours upon hours on leads, so they don't miss out on any promising opportunity. Here, Artificial Intelligence (AI) can channelize this lengthy process by making it easier and faster. With the power of automation, it can reach out to every single prospect in the form of natural human conversations effectively.
Filters Multiple Leads
Artificial Intelligence (AI) works great when it comes to filtering the multiple leads. SalezShark also harnesses the power of AI that offers great assistance in sorting out the qualified leads. Rather than sales and marketing people wasting their time in sorting out the leads, AI can simplify this job in no time and presents the consolidated, valuable list of qualified leads that the sales team can nurture.
Improves Customer Service
Most of the organization's primary objective is to deliver impeccable customer service. However, Artificial Intelligence (AI) is also capable of helping the business in this. AI utilizes data analytics into personalizing service and build user-friendly experiences for all customers. For example, if any customer comes up with a complaint, then AI can guide the customer service representative to resolve the customer issue quickly. The quick resolution generates customer loyalty and chances that customers will recommend your products and services to their friends and family.
Adds a "Human Touch" to Automated Messaging
Artificial Intelligence (AI) also capable of adding a human touch to automated messages that you send to prospects. It can craft the emails as per the customer's needs. Rather than a sales rep spending time in creating a personalized email, AI evaluates all the personal information of a customer and suggests certain tones and words target the lead in a much better manner. This "human touch" creates wonders and lessens the chances of turning-off of the potential lead. Besides, this AI saves a significant amount of time for sales and marketing representatives.