Building a strong and personalized relationship with customers; managing interactions with b2b clients, colleagues, and so on play a vital role in driving any business effectively. To achieve these objectives most of the businesses are using CRM (Customer Relationship Management) software that helps them in driving multiple processes seamlessly, finding new clients, acquiring new customers, offering add-ons, and providing further support.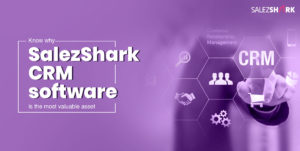 The sales process is the pulse of any business. CRM software acts as the most valuable asset in making the sales process a breeze. It automates and streamlines the entire sales process and helps you to track opportunities stuck in different stages of the sales funnel. It also offers great support in making your marketing operations magnetic by automating your email marketing process that leads to effective lead nurturing enhancing the chances of lead turning into a profitable deal. Let us look into four reasons why CRM software is the most valuable asset to your business.
Know your customers better
Before you jump into selling or marketing your products and services, you should have a fair understanding of your target audience and existing customers. CRM software helps you in this process by making you understand your present, past, and future customers. SalezShark CRM is one of the CRMs that harness the power of advanced technology like artificial intelligence helping you to know your customers better by retrieving information like who your customers are? What sort of products and services they want? Why they buy your products? What are their buying habits and trends? Once you develop a thorough understanding of your customers' buying behavior and preferences, it becomes much easier to not only anticipate the needs of your customers but also exceed their expectations.
Offer tailored offers to customers
When you visit any business website, you might have seen a pop-up that asks you to sign up or create an account. You must be wondering why these pop-ups keep on bugging you whenever you visit such websites. Well, this is only because those businesses want to know more about you and once you register and sign in, their website tracks your online activities and based on your online surfing, businesses can offer you products and services that match your buying behavior and preferences. Here in this process, CRM plays a vital role as it gets integrated with your business website, examines the data, and creates personalized recommendations that can be offered to your past, present, and future customers. Hence it helps you to offer tailored offers to your customers.
Streamline day-to-day processes
Driving various sales and marketing related-tasks manually like capturing leads, sending emails to customers, keeping a record of interactions made with customers, and so on is a tedious and time-consuming process. By leveraging the power of automation introduced by CRM software all of these day-to-day processes can be automated and streamlined that results not only in saving your time but also enhance your overall productivity. Right from sales to business analytics to marketing campaigns, CRM software enables you to automate and streamline various aspects of your business. Hence it helps you to focus more on delivering impeccable customer service and establish strong customer relationships.
Enhance customer service
A recent study found that only 30 percent of businesses address the queries of their internet-based leads in an hour. This means most businesses are wasting the opportunity to turn their leads into paying customers. The bar of competition is rising day by day and the only way to gain a competitive edge over your competitors nowadays is by making an ever-lasting first impression and responding to your leads as quickly as possible. With the help of the right CRM software, you can achieve this objective and can easily respond to your leads on a real-time basis. It helps you not only in nurturing and building strong relationships with new leads and existing customers but also enhance customer engagement improving customer service.