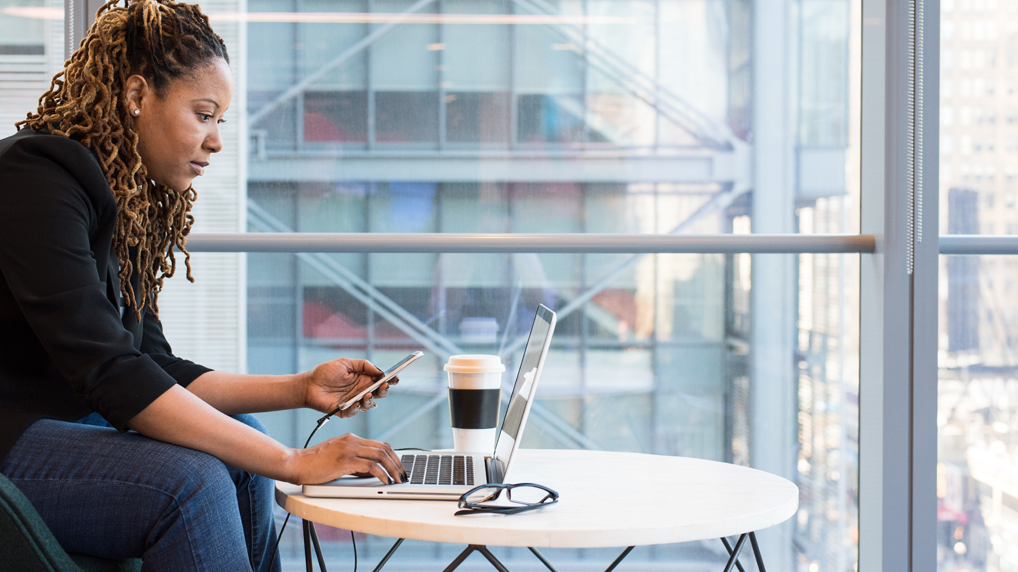 One of the latest technologies that have transformed the way of selling and marketing dramatically is CRM-Customer Relationship Management. In the market there are several CRM providers however we are here with top 10 CRM software companies list. CRM today harnesses the power of Artificial Intelligence (AI) and business automation that simplifies the job of sales and marketing representatives and also facilitates businesses to acquire leads, nurture them, and turn into valuable customers quickly. CRM-Customer Relationship Management system plays a vital role in enhancing the businesses productive growth by automating their regular tasks, enhancing lead conversions, offering intelligent insights in the form of real-time reports of sales and marketing campaigns' performance and eventually increasing the sales and generating a higher return on investment (ROI).
CRM (Customer Relationship Management) is the most buzzword these days. It is the most talked word in the tech-world nowadays. The dynamics of sales and marketing is ever-changing, and it has been changed dramatically in the past few years. The tactics and techniques of sales and marketing have changed now. The arrival of new and advanced technologies like CRM software, sales automation, marketing automation, artificial intelligence has completely transformed the way of acquiring the leads, nurturing them, and converting them into leads.The top 10 CRM software companies that are changing the way of selling and marketing are listed below. However before that we must know what is CRM?
CRM software offers a unified portal to the sales and marketing team, where they can automate various manual and tedious tasks. Prior to this, it was a herculean-task for the sales and marketing representatives to drive various sales and marketing manual and tedious tasks. Most of their time and efforts were going in vain to complete these activities, and also chances of making errors were higher. However, with the arrival of Customer Relationship Management, it becomes a cake-walk for the sales marketing team to automate their manual, repetitive, and tedious tasks. This also resulted in saving a lot of time for the sales and marketing team that allows them to focus more on established connections with leads, nurturing the leads and converting them into customers quickly. Let us look top 10 CRM software companies India: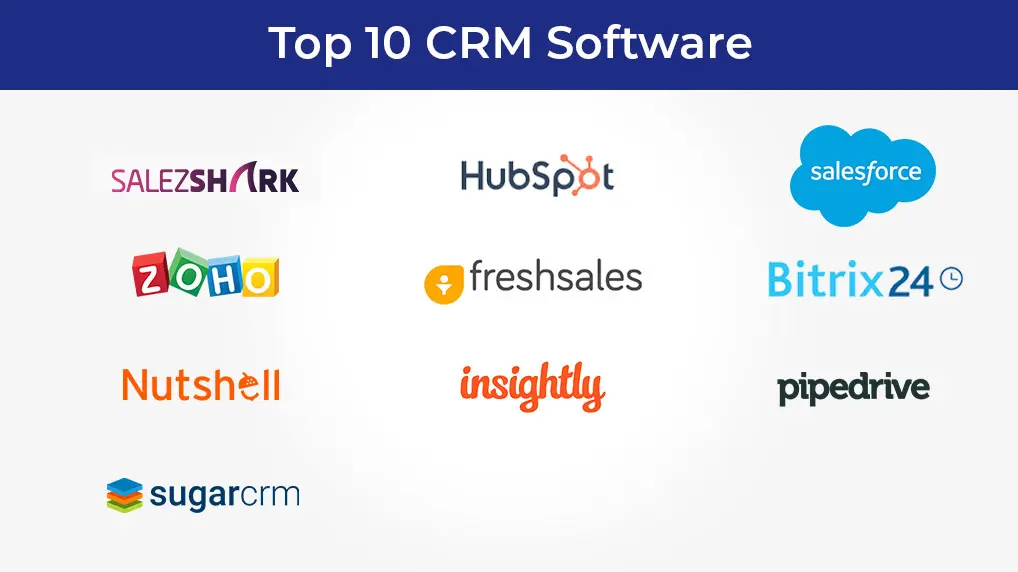 One of the top 10 CRM software companies and fastest-growing brands in the CRM world is SalezShark; it is an ideal choice right from the start-ups to small and medium enterprises. SalezShark – CRM software is exclusively designed to manage all the business manual tasks, activity updates, sales automation, invoicing, daily timesheet, email marketing, marketing automation, support system, task management, track your sales, sales forecast, and much more at a single platform.
With SalezShark CRM, the possibilities are limitless. It provides the ultimate tool set to build relationships, maximize engagement, and drive business growth. SalezShark offers a unified sales and marketing platform designed to help you and your team successfully run and grow business. It also offers:
a.)    Get Flexibility to Meet Any Business Requirement
Regardless if you're a single or multi-channel business, it offers flexibility to address any business workflow or requirement.
b.)    Enjoy a 360° View of Your Customer
Know your customer journey and offer a superior customer experience by tracking, which leads to convert into opportunities and which opportunities close into customers.
c.)     Launch Intelligent Sales Campaigns
Create a sequence for your sales activities, or shuffle them up based on a recipient's behavior.
Besides the above benefits, SalezShark provides handhold support to all your sales and marketing activities. They provide a respective account manager to support you in creating a lead, accessing reports, and scheduling email campaigns. The cherry on the cake is they charge 0% fee on all training sessions and live tutorials, right from your boarding to the access of the sales automation platform to manage your sales account extensively. It is also highly customizable as per the business and industry requirements and very affordable too.
Hubspot
Hubspot is one of the prominent top 10 CRM software companies and their CRM can be used by small & medium enterprises to push business transactions by increasing the total amount of sales possible while curbing down on excessive work. It can be used by anyone, installed even on handheld devices, so users can have access to the CRM anywhere at any time. Sales automation feature is a major benefit of this CRM because users can focus on other aspects of driving their business and keeping in touch with partners while all the sales happen. Besides all, there are also some other impeccable features that are as follows:
a.)    Log and track emails better
As we know, typical free email tracking tells us when an email is opened, and some add-ins give more detailed information. If you're using Outlook, Outlook 365, or Gmail for email, you can easily track and log emails once you install the appropriate extension or add-in for HubSpot.
b.)    Use the Documents tool
With Hubspot, it is easy to create a library of up-to-date marketing and sales content for the entire team and easily add a link to them in business emails with this tool. It allows you to receive instant alerts when contacts interact with the website content and see aggregate metrics on the content performance.
c.)     Create email templates
Hubspot offers highly-customizable, premade email templates that don't require typing the same content every time. These customizations help in personalizing emails while sending them to your contacts. One thing to keep in mind is to add a text; if it's an image only, it cannot attach to the email in HubSpot.
Salesforce
Another CRM that is among  the top 10 CRM software companies is Salesforce. It offers applications to small, midsize, and enterprise organizations, with a focus on sales and support. This CRM has the ability to include sales management, marketing automation, partner relationship management, and customer support. These powerful features facilitate businesses in managing customer accounts, identify sales leads, conduct and analyze marketing campaigns, and offer service post-sale.
Salesforce CRM enables users to sync all contacts, calendars, emails, and tasks in both applications. It helps small businesses to enable users in managing contacts, track sales deals, manage tasks and events, nurture leads, and evaluate performance. This CRM's enterprise edition includes call scripts, team-selling functionality, business workflow, setup approval and automation, custom applications, and API integrations. Besides all, there are also other impeccable features of Salesforce that are as follows:
a.)    Opportunity and Pipeline Management:
Salesforce checks sales opportunities from lead to the final stage of an order. It gauges stages, values, and probabilities. It streamlines the sales pipeline by an individual sales representative, team, region, and country. It also enables users to handle and track lead through a systematic approach.
b.)    Desktop Integration & Email Marketing :
It helps users to sync their email, calendar, and contacts. Salesforce CRM gets easily integrated with Microsoft Outlook, Gmail, and other third-party email clients. It enables users to send emails to contact lists in bulk. It also has built-in email templates, social media integration, signup forms, subscriber list management, success rate reports, and auto-responders.
c.)     Customer Contract and Order Management :
Salesforce CRM stores data related to contracts made with various customers like payment terms and conditions, compliance criteria, amendments, and so on. It allows users to prepare a quote that has to be provided to a customer entailing product description, specification, quantity, and associated discounts. It also tracks accepted quotes and allows users to process it.
d.)    Product and Price List Management :
It allows users to easily manage the prices of products by just entering the product/part/batch number. This feature allows users to easily modify the products, their specifications, and the prices as per the demand and quotes.
Zoho
Zoho is one of the prominent top 10 CRM software companies and their CRM provides a cloud-based customer relationship management (CRM) system that is highly customizable as per the requirements of small and medium enterprises. Its graphical user interface comes with CRM tools such as sales and marketing automation, customer service and a help desk, product configuration and reporting, and customer analytics. This CRM provides users with multi-channel support, enabling organizations to connect with their clients through email, live chat, phone, and social media platforms. The gamification feature of this
CRM enables organizations to gamify their sales process and reward employees who achieve their sales targets. The mobile edition offers users access to sales tasks and customer information on handheld devices like iPad, iPhone, and Android devices. Besides all, there are also other impeccable features of Zoho CRM which are as follows:
a.)    Lead generation & management
Zoho CRM helps you in generating more leads. There are three key areas the platform will help you achieve this: email signups on your website, live chat conversations, and converting leads via social. Zoho CRM's lead assignment, scoring, and automation features are highly capable.
b.)    Marketing & Sales automation
Zoho CRM enables a user to build sales automation workflows, allowing users to automatically send email responses to new leads, move prospects to different email lists based on their responses and move contacts along the sales journey. The builder is simple and intuitive, making it ideal for teams that are new to CMRs and automation in general.
c.)     Analytics & Reporting
Zoho CRM's one of the primary objectives is to put emphasis on analytics and reporting. This CRM's reporting isn't the most extensive on the market, but it does give you a solid overview of just about everything from sales records and business performance to KPIs and web form insights.
Freshsales
Freshsales offers a cloud-based customer relationship management (CRM) system that facilitates organizations across multiple industry verticals to manage their interactions with potential prospects and existing customers. Freshsales is also ranked among the top 10 CRM software companies.
The major features of this CRM include one-click phone, sales lead tracking, sales management, event tracking, and the list is endless. This CRM works great in sending personalized bulk emails from the system and then keeps track of activities on these emails. The inbox automatically prioritizes emails from contacts and leads that are waiting for a response.
This CRM also keeps track of the web pages that leads are interacting with and then segregate contacts based on their behaviors. This CRM's lead scoring feature ranks lead based on that data and also prioritize those with a higher score over those that require nurturing further. It also offers a 360-degree customer view entailing full details of existing customers and sales qualified leads, including all interactions, touchpoints, appointments, and activities. Besides all, there are also other impeccable features of Freshsales CRM which are as follows:
a.)    Deal Management
Freshsales convert the pipeline into an ROI machine. It helps sales and marketing reps to locate all deals in the various stages of the pipeline by segregating and filtering the same. The deal stage bar assists you in knowing the values of the deals. You can also call and email to the prospects directly from the deal dashboard. In addition, you can trace on-going deals, create various reports, and manage multiple sales pipelines with Freshsales.
b.)    Know your Visitors
This CRM offers real-time analytics on your website visitors. It offers tips to have a smarter conversation with clients by gauging communication insights. It also displays a chronological timeline view of the leads' activities. It also divides the activities of the contacts based on some pre-defined factors.
c.)      Email Management
Freshsales CRM facilitates the sales and marketing reps to trace the performance of multiple email campaigns with real-time analytics. It simplifies the job by automating campaigns for stipulated time-frames. With the help of the synchronization feature, Freshsales CRM helps to view the 'sent mails' in both folders, i.e. Freshsales application and your inbox.
Bitrix24
Bitrix24's customer relationship management (CRM) system offers a great portal where businesses can streamline and track interactions with potential leads or existing customers and partners. This CRM enables users to log and manage client interactions, capture and store lead data, generate sales reports, and perform segregation of target audience. It has a feature to feed leads received from a user's website directly into the CRM. Users can then create email templates, send individual or group emails to sales qualified leads, capture notes on client interactions, fix meetings, and assign activities.
In this CRM, users can also create personalized invoices for leads and existing customers by automatically inserting customer information and then onwards sending emails to them directly. It also offers a great functionality of sales funnel that gives an overview of sales transactions in progress and their respective stages. Various sales dashboard of this CRM helps sales reps to see how many deals they've closed or achieved. How many leads haven't been invoiced yet, and they can also check their rating in comparison with other sales reps.
Nutshell CRM
The customer relationship management system is one of the most essential and often overlooked aspects of small and medium business management; however, Nutshell CRM makes sure to cover these areas that need a bit more attention in the sales pipeline. This CRM is an ideal choice for small and medium enterprises that are involved in the B2B sales process, and it offers greatly advanced functions that make this CRM perfect for optimizing sales and marketing workflows. It gathers everybody in the organization at a single platform for seamless communication, and it consolidates contact lists and email interactions, so nothing ever gets missed.
Insightly
Insightly has also created its strong presence  among the top 10 CRM software companies. It is a good CRM for small and medium enterprises. The feedback from its users is great as it offers great integrations. Insightly  helps the sales and marketing reps to be nimble during various workflows. It works great by automating sales and marketing tasks that help sales and marketing reps to focus more on core sales and marketing activities. It saves a lot of time and gives more time to the sales and marketing reps in nurturing the leads. Any start-up who wishes to try this CRM can opt for a free trial to know its various advantages.
Pipedrive
Irrespective of the size of the organization, all the businesses need help in regularising their workflows and fetch good sales. Pipedrive is an excellent CRM for start-up, small, and medium enterprises. Pipedrive is very popular among start-up businesses as it offers some of the most useful tools for channelizing the sales process while also working to enhance business growth as quickly as possible. This CRM available in multiple service packs; businesses can easily choose any service pack as per their business requirements.
Sugar CRM
Lat but not the least Sugar CRM is also one of the leading start-up CRM systems that is ranked among the top 10 CRM software companies. It offers a great versatility that it can be scaled from the beginning to grow as your business does. This CRM is pocket-friendly, and it is based entirely online for easier and seamless implementation and usage. It has the capability to streamline contacts and establish seamless communication both internally and externally.
These were the few features and benefits of the top 10 CRM-Customer Relationship Management systems improving the business growth of start-ups and small and medium enterprises; however, the list is endless and comprehensive. Effective and powerful CRM software with a combination of sales automation and marketing automation is a basic need of any organization nowadays. CRM software acts as bliss to build an impeccable relationship with leads and existing customers. It helps to bring all your leads and contacts to store and manage all information, which makes life easier for everyone, including your customers, who get better and faster service as you begin to contemplate their requirements more accurately. So opt for a CRM that suits your business and industry requirements and reap out the maximum benefits in the form of better sales and enhanced ROI.