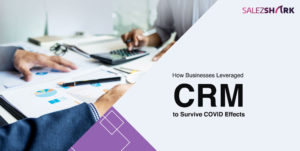 We all are aware of how COVID-19 and continuous lockdowns immobilized the world that caused an intense economic crisis. Its lethal impact forced businesses to close their operations and in order to sustain, businesses opted for the online work from home mode. To combat all sorts of issues and challenges in working from home, automated CRM Software (Customer Relationship Management) software helped businesses to synchronize their process functionalities through a planned approach. Let us look how:
Cloud-Based CRM
Cloud-based CRM like SalezShark CRM helps businesses to synchronize their process functionalities online seamlessly. It offers a secured online platform to run various operational workflows through work from home. These operational workflows primarily involve scheduling online appointments, product demos, follow-up emails with prospects and existing clients. Due to its cloud-based technology, any data or customer information can be uploaded, edited, or deleted by the sales or marketing team as and when required anytime from anywhere. Hence it ensures seamless communication is maintained with customers all the time.
Identify Potential Customers
As the lockdown forced everyone to stay at home, so most of the people spent more time online, checking emails, visiting business websites, social media platforms, and so on. Here, CRM software like SalezShark CRM that runs on various advanced technologies like Artificial Intelligence, Big Data Analytics, and Machine Learning helped businesses by offering some intelligent insights on buyers' buying behavior and preferences. It captures buyers' browsing history and interests expressed on various products and services; based on that businesses can identify their potential customers. Besides this to entice potential customers especially during the lockdown scenarios, it helped businesses to drive email marketing campaigns effectively. It helps businesses in drafting and sending personalized mass emails to prospects and existing customers by offering readymade and highly customized email templates that result in saving time.   
Team Synchronization
Synchronizing multiple teams remotely was one of the challenging tasks for businesses during the time of lockdown. Hereby deploying automated CRM software this challenge was easily worked upon. Cloud-based CRM software helps businesses to align their sales and marketing teams by offering them an easy-to-use interface and a unified platform where all the teams can work in sync to attain their individual goals and common business goals. It brings transparency among the team members regarding who is doing what and the senior managers can also track the performance of their subordinates by accessing the unified platform offered by CRM. This unified platform can also be used by teams to share various metrics and real-time reports with each other which saves time. Hence it fosters seamless communication among the teams and enhances their productivity.
To combat the lethal impact of lockdown, businesses also invested in CRMs that are mobile-friendly. CRMs that can be easily accessed through mobile phones proved out to be of great help to those small businesses that failed to provide laptops to their employees. In such a scenario mobile-friendly CRM helped such businesses to stay in touch with their employees. This feature helped employees to interact with their past, present, and future customers anytime from anywhere through mobile. Also, it helped them to keep a track of their sales and marketing campaigns' performance remotely.
Hence, by using these unique features of CRM it is getting easier for businesses to coordinate their operational workflows, and avert the financial stagnancy caused due to intimidating pandemic.