Irrespective of the size of a business-small, mid-size, or large, and irrespective of the industry it belongs to, the marketing process plays a vital role in boosting the sales of the business. This process is responsible for generating sales-qualified leads and establishing seamless communication with prospects and existing clients. Your marketing efforts decide the level of your customer engagement and to do it seamlessly and effectively you need powerful and intuitive online CRM software like SalezShark CRM (Customer Relationship Management).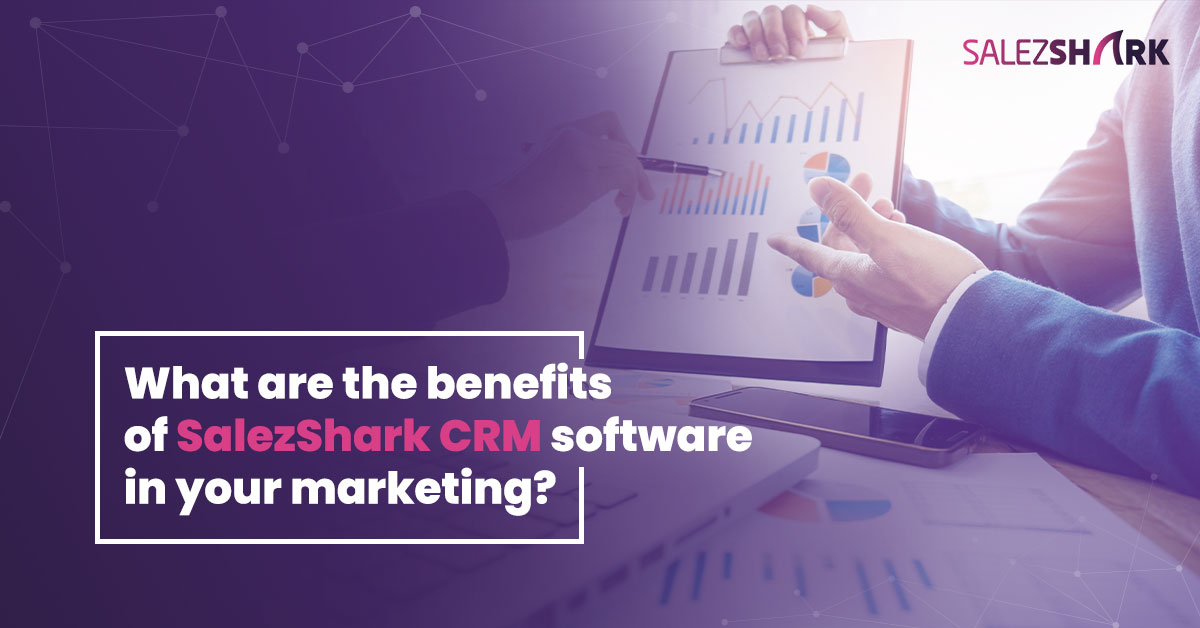 By deploying SalezShark CRM into your business you can make marketing magnetic and entice your target audience to know more about your products and services. It helps you in creating highly targeted and personalized email marketing campaigns that generate curiosity among your target audience to know more about your business products and services. SalezShark CRM software is also highly customizable as per your business size and industry requirements. It automates your lengthy and tedious manual marketing tasks by enabling you to create automated workflows that give you more time to focus more on prospecting leads and turn them into paying customers. This AI (Artificial Intelligence) based CRM also helps you by offering multiple smart insights on your target audiences' buying preferences, behavior, trends, and so on. By understanding these insights it becomes easy for you to pitch the right products and services at the right time of need.  Let us dig into a few benefits of SalezShark CRM software that boosts your marketing efforts.
Manage more leads in less time
By deploying SalezShark CRM you can manage more leads in less time. It automates your lead capturing process and captures leads automatically from multiple platforms such as social media portals (Twitter, LinkedIn, and Facebook), websites, web forms, chat, IVR, emails, and so on. It also arranges all the leads together into the system and just by single sign-in to the SalezShark platform you can easily work on all leads together and save time. This marketing automation is very useful, especially during the time of high flow of leads when the chances of losing good leads often happen if capturing leads manually.
Automated email marketing campaigns
SalezShark CRM software helps you in driving your email marketing campaigns effectively by putting less effort. By leveraging the power of its marketing automation you can easily automate your email marketing process in no time. It enables you to create automated workflows for emails like welcome emails, follow-up emails, and so on.  It allows you to create email campaigns in a few clicks by offering readymade and highly customizable email templates. By using these email templates you save a lot of productive hours that enhance your productivity. Besides this it also allows you to add a power of personalization to your emails by addressing every email recipient with his/her first name during the creation of mass email campaigns.
Create a smart email list & schedule campaigns 
Another crucial aspect of email marketing is creating a list of contacts that are relevant and respond positively to your emails. In such a scenario SalezShark CRM helps you in creating a smart list of relevant contact by offering its integrated b2b database. You can filter your ideal customers from this database and can create a smart list of email contacts. Besides this when any email recipients subscribe or unsubscribe to your emails, it gets automatically updated in this smart email list which enhances the email deliverability rate. Once your email list and campaigns are set you can also schedule your email marketing campaigns in advance based on any event, date, geography, and so on.
Measure marketing performance
Last but not least is all about measuring the performance of your marketing efforts by analyzing your email marketing campaigns' performance. Measuring the performance is crucial as it involves a lot of KPIs and metrics to understand, however by SalezShark CRM helps you in analyzing the performance in a few clicks by getting the auto-generated reports on your email marketing performance in terms of email open rate, click rate, bounce rate, subscribe and unsubscribe rate. It provides you a complete 360* view of marketing campaigns' performance and also helps you in downloading the list of active receivers of email campaigns.