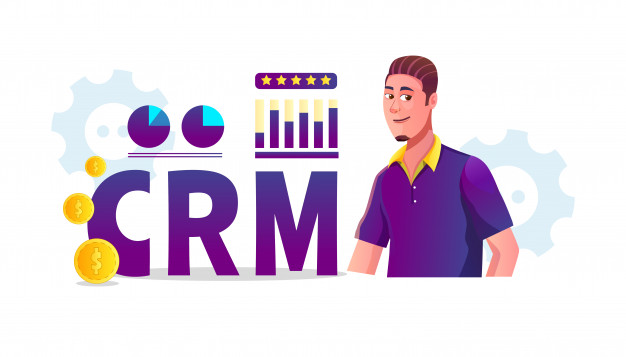 Whether it's a start-up, a small venture, or an established brand, all of them face a variety of challenges that differ based on industry, location, and other factors. However, there are certain pain points that are fairly common for all sizes of brands. Here we are with some common pain points that brands can solve by adopting enterprise CRM software.
Unorganized Data
Keep your data organized by centralizing all your data on a single platform provided by enterprise CRM software. Avoid the challenges you face while searching for the right contacts when you need them the most. Simplify your contact search by locating any contact or organization details in a few clicks by leveraging CRM's advanced search functions. Also, by adopting CRM software you can automate the lead capturing process through which contacts get automatically imported and consolidated under one platform from websites, emails, and Gmail mailbox.
Marketing Muddles
Enterprise CRM software acts as a remedy for marketing muddles. By adopting CRM you can get access to some smart data-driven insights on your target audiences' and existing customers' buying preferences, trends, and behavior that helps in making your marketing magnetic. It helps you to pitch the right products and services at the right time that resonate with the pain points of your target audience.
Challenges in Email Marketing
If you are facing challenges in driving your email marketing campaigns then integrate your email marketing with enterprise CRM software. It automates your entire email marketing process and enables your team of marketers to create and drive email marketing campaigns directly from the system. Add personalization to your emails by using the highly customized and readymade email templates offered by CRM saving your time. Also, you can schedule email campaigns in advance based on different countries' specific dates and times.
Poor Sales
Scale-up your sales process by adopting CRM that automates and streamlines all manual and lengthy repetitive sales activities enabling your sales executives to focus more on selling. It offers an option to create a strong sales funnel where all the captured leads can be arranged on the basis of interactions made with leads and on the chances of their conversion into a paying customer. The creation of sales funnel helps you to stay in constant touch with your prospects and reduces the chances of missing any lead. It gives you a bird's eye view of all your leads which helps in prioritizing the leads based on their chances of converting into paying customers. Hence, the sales funnel helps in maintaining the momentum of your sales cycle resulting in better sales.
Challenges in Sales Forecasting
Adopting CRM software helps your senior sales managers to forecast sales accurately. By getting access to the sales funnel feature of CRM in a few clicks, they can analyze the sales funnel and can easily calculate the exact amount of revenue that can be generated from the conversion of potential leads into paying customers.
Miscommunication and Misalignment between the Sales & Marketing Teams
If your value proposition and product messaging are getting presented by your sales and marketing teams in a different manner then it leads to a state of confusion among your buyers. Here to get over this challenge your sales and marketing teams need to establish a perfect alignment and seamless communication among them. By adopting CRM software you can bring both the sales and marketing teams on a unified platform where both the teams can work together and can share information with each other. Your marketing team can recommend how the sales team can follow up with prospects based on previous interactions and your sales team can help the marketing team in determining what content prospects want.
Evaluating Sales and Marketing Performance
Analyze your sales and marketing campaigns' performance on a real-time basis by leveraging the power of the smart analytics tool offered by enterprise CRM software. Get access to all real-time-based performance reports of sales and marketing campaigns that enable you to rectify mistakes if any found on live campaigns. It also helps you to enhance the success rate of your email campaigns. Besides evaluating the sales and marketing campaigns' performance it also helps in tracking the performance of sales & marketing agents.
Creating and Presenting Reports
Make reporting simple by adopting CRM. It plays a vital role in automating your reporting system. It helps you to save the productive hours of your sales and marketing team that were getting wasted previously in generating reports manually and inviting human errors. By adopting CRM, in a few clicks, you can create various sales and marketing campaigns' performance reports with zero chances of discrepancies. You can get access to auto-generated reports in a few clicks that are easy to understand & can be presented to senior managers in the form of graphs & pie charts.
Data Accessibility & Security
By adopting enterprise CRM software you get the ease of data accessibility and can access it anytime from anywhere. Nowadays CRM offers you a cloud-based CRM that is mobile-friendly and can be easily accessed from any digital device. It enables your sales and marketing executives to be in regular touch with their sales and marketing campaign analytics, they can also interact with their leads and also with their respective team members anytime from anywhere. It is also very helpful for senior managers to be in touch with their subordinates remotely. Besides this, if we talk about the data security issues then CRM nowadays offers bulletproof security keeping your information completely safe and highly secured by IP restrictions, single sign-on, identity & access management.
So, these were a few pain points that any brand of any size from any industry faces on a daily basis and by implementing enterprise CRM software these issues and challenges can be easily taken care of. SalezShark is one of the leading CRM companies offering powerful and intuitive CRM software that can help your brand in not only solving the above-mentioned pain points but more.