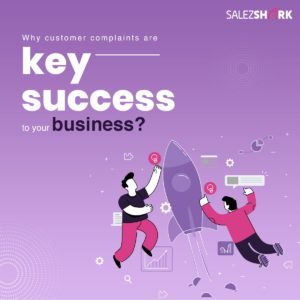 Customers are the most essential assets of every business. The higher the number of customers you have, the higher will be your brand image. It depends upon your customer service. If your customer service can make the business, it can break it too in case of poor service.
The best way to maintain the old clients and catch new ones is to keep them happy and contented with the service you provide. But the question is how would you get to know whether your customers are happy or unhappy? That's important!
You can easily get to know with the separate section on your site i.e. Customer Feedback, Customer Ratings, or Customer Complaints. It can bridge the gap between you and your customers and help you to reach them faster with amazing products and appreciable services.
How to define Customer Complaints?
Customer complaints are a kind of customer expectations that have not been successfully met in terms of products and services that the specific business promises them.
With the growing market of technology users, the concept of filing complaints has been changed over the past few years. The web pages and group chats have offered fresh ways for consumers to complain publicly about your business.
Dissatisfied customers can now express their reviews about your business on web pages and social media keeping other potential customers away from using your product or service. But on the positive side, these consumer complaints pave a strong way for your business to improve its productivity.
Let's understand how to respond to consumers' complaints and what are the benefits of receiving them?
How to respond to customer complaints?
In order to respond, resolve and keep your customer happy, make sure to follow the 5 steps when the next time you will receive any customer complaint.
Accept and acknowledge the complaint.
Inform the complainee that you are taking action.
Mark the complaint and categorize it in your records.
Now, resolve the complaint as per your company policies.
Take follow up with the complainee to make them satisfied.
The process of handling customer complaints is an ongoing and easy process if done systematically. At first, you can use web forms to file complaints arriving on your website. Then use customer service software to record the complaint on each customer profile.
Remember: Try to monitor complaints either on a weekly or monthly basis. This will help you to track new complaints and the latest trend to follow up with your customers.
" Complaints are prime learning arcs for better performance in your market"
Advantages of Customer complaints
You can't deny that online customer reviews and a good online reputation are both essential for your marketing success. Today, people first check online reviews before buying any online service or product.
Recent marketing statistics state that about 85% of consumers believe online reviews and around 74% of people watching customer reviews on any business website think that they should contact the business.
Improves Customer communication
Customer complaints open multiple opportunities for your team to have frank conversations with consumers. These discussions make the customers feel that they are the vital elements to your business's success.
Understanding customer needs is significant for every successful business. The more you will get to know about your customers, the more effective you will gain insights into your products and services. This will help you to persuade both potential and existing customers that your brand is matched best with their interests.
Internal Training
Getting and responding to your customer complaints give you the real-time problem-solving ability, useful to shape your staff training process and methodology. This way you can amend your policies and procedures that are inconvenient for your team or customers.
You can understand and track these issues through SalezShark CRM software to make fruitful futuristic solutions for your company.
Opens the secrets of competitors
Whenever customers complain about your services, it implies that they are expecting something your competitors are providing to them. So, try to grab their points carefully and provide them with better solutions than your competitors.
Build your online reputation
Since customers are important components for your business to make things right, so resolving their issues on a priority basis can help you to win their trust and build your brand reputation online.
Make the right efforts to remove the negative reviews and complaints from your social media channels while keeping the customers satisfied simultaneously.
Have you ever thought about why do customers complain so much?
The reason may be the reactive support channels, delayed customer responses, or when customers' "frame of reference" does not properly line up with your product or service.
Here your customer support team must be equipped with the right tools, resolve all complaints using their skills to bring them back to your platform.
Final Thoughts
We need to change our perspective about complaints by understanding the real value that comes with them. We should encourage our customer complaints since they have a significant impact on every business. So, by recognizing the benefits of these complaints you can improve your brand face value and team productivity.