In the past few weeks, social distancing and the COVID-19 outbreak made millions of working professionals set up an office in their homes. It seems like a dream for many working professionals to work from home until you had to do it yourself. Work from home comes with a sudden vacuum and a realization of how lonely you are especially if you are an extrovert and love your office space. You get to know the importance of setting ground rules with the people you share your space with.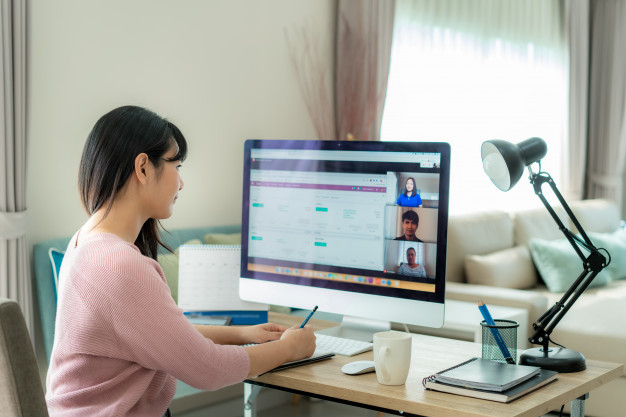 Over the years, we heard a lot about working from home and workplace flexibility. Work from home for most of us is a planned voluntary action, not something sudden we have to do. However with a COVID-19 outbreak suddenly a huge number of workforces are compelled to work from home. So, to make this process better here we are with a few pieces of advice from those people who've been working from home.
Stay calm
"Staying home can be very lonely. … Try and remain calm. Listen to music, play a funny movie in the background–in the early years of launching my own coaching practice, old episodes of Mystery Science Theater 3000, literally saved my life and allowed my business to thrive. But, do whatever it takes to create a warm environment."
–Carlota Zimmerman, career strategist
Build a stress-free zone.
"Make sure you have a stress-free zone, at work (yes even your home office). … Look for a break room.. No need for a fancy setting. All you need is some soft lighting and something comfortable to sit on. Put together a nice relaxing playlist and listen to it."
–Dr.Tasha Holland-Kornegay, author, speaker, and mental health professional
Get up
"Don't work from bed. You want your bed to be a place of peace and calm, not work stress."
–Liz Grossman Kitoyi, co-Founder and CEO of Baobab Consulting
Get some green
"If you work from home, especially in the cold climate, you can go days without going outside. Getting a snake plant, money tree or areca palm can make a big difference for your workspace."
–Michael Alexis, CEO of Team Building
Set up a place *not* to go
"Not everyone has an office, so it's all right [to work at] your dining room table or couch. My advice is to … try and create some space between the places you are working and the places you are relaxing, even if it feels a little silly to be on two different sides of the couch."
–Hailley Griffis, communications lead at Buffer and podcaster
Get ready
"Wake up and get ready just like you're going to work. If you stay in your slippers all day you will not be as productive."
–Elijah Schneider, CEO & founder of Modifly
Close the door
"The most important thing is to have dedicated office space where you can CLOSE THE DOOR and have set office hours. … I did the opposite and allowed work to swallow my home life for a while. … Stupid mistake."
–Kathy Kristof, editor of SideHusl.com
Create routines
"Establish a pre-work routine and an after-work routine. Working in the same place where you wake up, eat, and sleep can make anyone go crazy without proper boundaries in place."
–Marissa Owens, Opportunity Business Loans
Stay connected
"Keep a team chatroom open. There is nothing more important in a group remote project than casual communication. Not just official emails and work updates, but the ability to sit back and chat."
–David Rabin, VP of Global Commercial Marketing, Lenovo
Don't forget about security
"Hackers will be exploiting the security vulnerabilities that come with remote work. When people are scared and isolated, it's much easier to target them because they are not using good cyber hygiene–it's the last thing they're often worried about in a panic."
–Aleksandr Yampolskiy, CEO of SecurityScorecard ​
SalezShark – Sales & Marketing made better with the world's most trusted & simplest CRM system. Try SalezShark for FREE