As sales leaders and marketers, we are continually searching for approaches to automate, improve, and simplify everything for ourselves so we can produce more substance, run more projects, and accomplish higher ROI. With advanced technology delivered at our finger touch, customers nowadays expect a personalized experience that should be effective, engaging, and instant. However, to create an engaging & personalized customer experience, marketers need to have a deep understanding of customer behavior and predictive analytics that would help them to connect with their target audience at the right time & with the right message. Overwhelmingly, the greater part of this customer engagement can be achieved with the SalezShark Connect+ marketing automation platform.
In this blog, let's shed light on top marketing automation features that could drive effective customer engagement.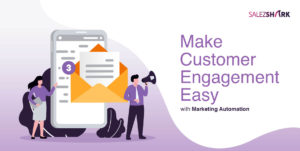 Use Email Marketing Effectively
Email marketing can be highly effective in getting significant ROI (Return on Investment) to your business if done right. Most of the brands use email marketing as a medium to inform their existing customers and promising buyers about seasonal sales, product releases, customer updates, feedback, etc. While creating email marketing campaigns, it's highly required to capture your email recipients' relevant data because then only you will be able to create and send personalized emails that resonate with the needs and expectations of your existing customers and promising buyers.
Quite possibly the most impressive capacity of marketing automation is its capacity to help marketers in sustaining prospective customers, by conveying the correct message at the right phase of their sales journey to push them toward the conversion stage—regardless of whether that is a hit or a miss.
Simple & steady, mobile marketing is the revolution that lets marketers & salespeople stay connected with their target audience anytime, anywhere. Mobile marketing speaks for your brand to each & every individual by peeking into their mobiles & let you improve your customer engagement with effective & personalized content.
With the utilization of mobile marketing automation, you could:
Through the mobile app, you can stay connected with customers via push notifications, in-app messaging, and service chatbots.
Send timely notifications related to sales/offers/discounts that can be availed when you insist a customer login into their account.
Keep a check on the mobile engagement analytics for holistic & integrated reporting.
Third-party integration for business growth
Anything blissful cannot happen in your comfort zone and so is the engaging social media marketing programs that work effectively when integrated with other marketing campaigns and channels. Social media is one such platform that cannot be ignored in this age and integrating social media marketing with your website, blog, mobile app, analytics and more can help you reap maximum business benefits. Such metrics can be used to improve your multi-channel campaigns and share more targeted content thus boosting engagement.
With social marketing automation, marketers can:
Based on the prevalent situation, create polls & contests that customers enjoy engaging with for a better experience.
Create personalized landing pages on websites and track traffic & customer engagement.
Do not forget to add social media sharing buttons across all site content for effortless brand marketing.
Relevance of analytics to optimize engagement
Enhancing customer engagement is one of the key objectives for most brands nowadays to grow business by leaps and bounds. The ways to build customer relationships evolved tremendously in the last few years. The dynamics of a customer-business relationship are rapidly evolving and to match the pace of these evolvements, marketing automation is proving out to be of great help. With deep & insightful analytics, it helps brands to create actionable roadmaps to deliver impeccable service to customers.
As an entrepreneur, analytics empower you to grab great opportunities that result in knowing your customers, enhancing engagement, retaining customers, and getting repeat business too. Such metrics offer you some smart insights on your present, past, and future customers that help you to understand their buying behavior, spending trends, and interests. Hence by understanding your customers thoroughly you confidently create sales and marketing strategies that lead to more satisfied and loyal customers.