Programmed with AI capabilities, the SalezShark Sales Cloud facilitates employees to prioritize their work and take a transitional leap from manual testing to the automated workflow. The simplest of cold calling to toughest of follow-ups, the system is advanced enough to set on-time reminders for completing your basic responsibilities of scheduling meetings, filling up the sales pipeline, and analyzing the sales forecast report. Minimizing human error, the SalezShark Sales Cloud liberates you from the shackles of annoying repetitive tasks and increase your productivity with features like impact analysis, target meter, and predictive scoring. There are lots of advantages that come with SalezShark subscription. Below you will discover the five most important factors to switch to SalezShark sales cloud.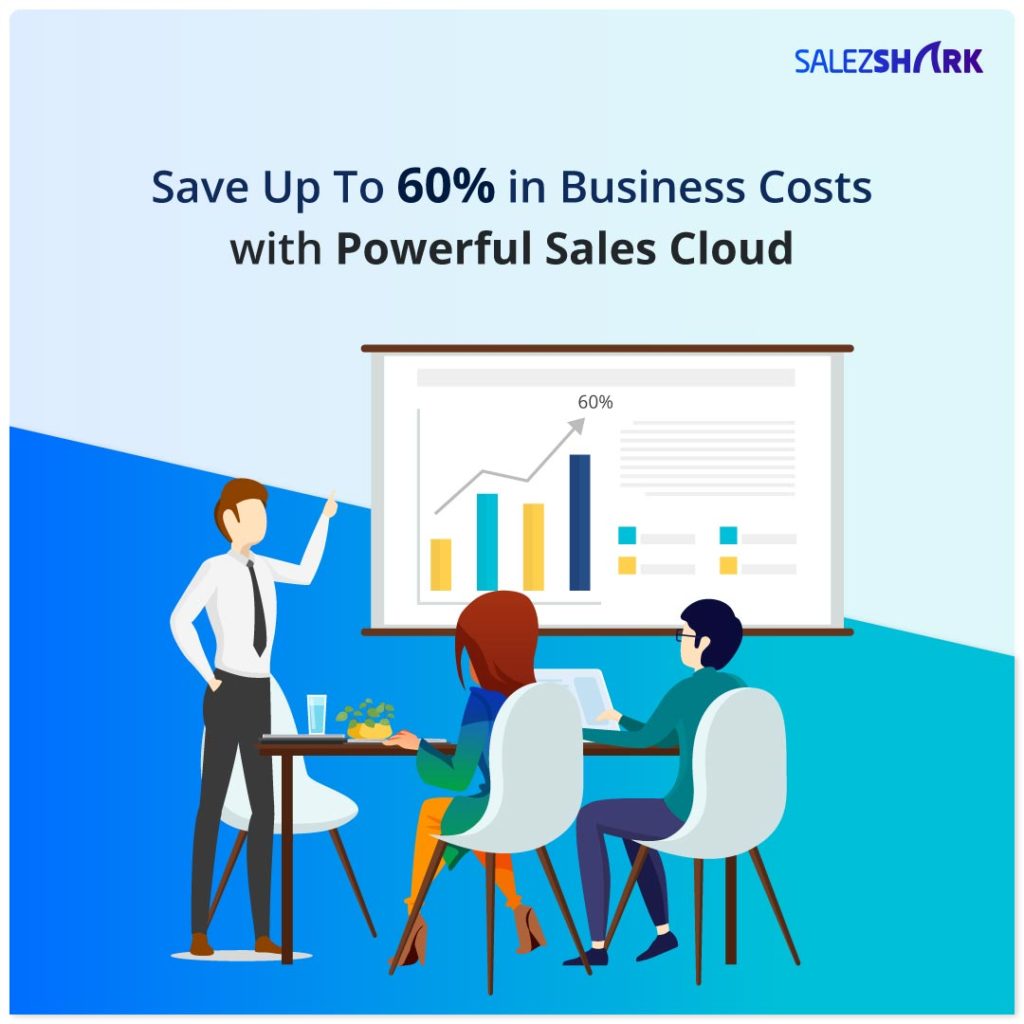 Customer Management Made Affordable
Once upon a time, CRM programming was extremely expensive because of the licensing cost that prevented SMEs to enter the CRM territory since they cannot afford to indulge in the recurring cost on equipment, usage, support, training, and consultation. However, what worked in sales automation yesterday, simply may not work tomorrow. With technological advancements, the implementation of CRM in any business has become the need of an hour and available at the minimum cost of $20 per user. Moreover, SalezShark sales automation offers you a 14-days free trial to evaluate the smart dashboard, sales forecasting and campaign management for longer usage. During your free trial journey, you can even request for the demo to make your sales cycle simpler and easier.

Configurations Made Effortless

Reports revealed, 4 out of 10 CRM buyers believe that one of the top difficulties looked by their current CRM programming is dependence on IT to set up the framework. Tragically, there are still some conventional CRMs in the market that are difficult to set up and require IT assistance in designing and configuration, according to business needs. Thanks to the modern SalezShark sales cloud that decreases your IT dependency and perform your day long tasks in minutes. It is easy to configure, learn and use in simple steps. Additionally, there is no requirement of any technical specialist for execution and customization because the premium support of SalezShark is just a call away.

API Integrations Made Easier

Traditionally, CRMs were hard to coordinate with different frameworks since they didn't have open APIs or native integrations with different applications. With the new flood of CRMs in the market, it's simpler to integrate different applications and give a 360-degree view of customer information. Thanks to the modern CRMs that are in-built with different applications and can be easily integrated with applications that are suitable to your business. The AI enabled SalezShark sales tool is powered with number of useful integrations like Dataguru.in, Snap Engage, My Operator, Mailgun and more. It provides a competitive advantage to its users when your sales rep need accomplish more tasks without leaving the CRM platform.

Manual Updation Made Simpler
Honestly, anything that replaces the word automation gives away the never-ending headache of involving into never-ending tedious tasks, particularly when you can utilize that opportunity into digging the goldmine, i.e. selling. In any case, that is not how CRMs are any longer. SalezShark sales automation is built with AI driven capabilities such as retrieving information from client data, scheduling emails, impact analysis, sales forecasting, and so on. Truth be told, CRMs today surface the correct data at the right time for the right location to assist sales reps to engage with clients better. So, when are you adopting SalezShark sales tool to boost your team productivity?
Made for Everyone
Philip Kotler rightly said, "The sales department is not the entire company, but the entire company better be the sales department." If your entire workforce is the part of the sales journey then the implementation of CRM has become all the more essential in terms of involving the sales, marketing, and customer service department on the single platform. The idea behind adopting CRM is to strategize your sales and marketing strategies wherein the notion of selling alone is no longer prevalent and leveraging the concept of transparent and smooth customer experience. When a customer raises an issue related to the marketing material of your company, it is the job of your customer support to listen and resolve and at the same time, connects with the particular sales rep to figure out customer's background and clarifying the templates with the marketing specialist as well.
As compared to the bygone myths associated with CRM, most of the cloud-based CRM are profoundly instinctive, very affordable, and enable you to be increasingly focused in your particular field. The simplest SalezShark sales and marketing tool increases your revenue up to 5X, save up to 60% business costs and empowers you to invest more energy in negotiations and less on the routine organization. Thus, in simple words, Welcome to the future of CRM innovation. If you'd like to learn more about the benefits of SalezShark from our sales experts, you can contact us online or call +91 9015731800 now!