Capture leads effectively with SalezShark lead management CRM
Struggling to manage leads? With SalezShark, you can easily capture quality leads from multiple sources - websites, social media platforms and more - in just a few clicks. Sign up now to get access to an automated lead management system that centralizes all your data with one login!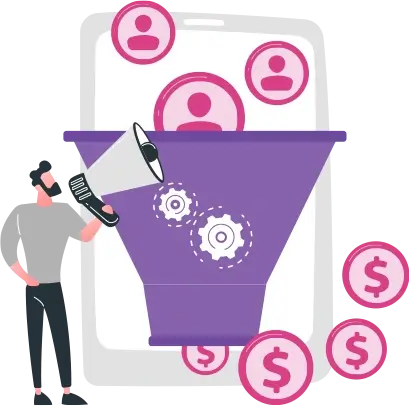 Track leads effectively SalezShark lead management CRM
Maximizing lead interactions has never been easier! With SalezShark, you can easily stay on top of the activity and interests of your leads. Track exactly which pages they visit in real-time to understand what's important to them. Then use that knowledge to nurture those relationships effectively – all while converting more leads into deals!
Score & distribute leads
Unqualified leads can be a sales exec's worst nightmare, with 80% of marketers passing them onto their colleagues. A never-ending cycle ensues – wasted time and resources chasing uninterested customers, decreasing productivity while damaging the brand reputation in one fell swoop.
Eliminate unqualified leads quickly with SalezShark! Its lead scoring system sets parameters to automatically filter out irrelevant contacts, leaving you only the hot prospects. Prioritize your time efficiently and focus on those who are ready to become paying customers.
Automate lead distribution with SaleszShark to seize qualified leads and maximize conversion potential. Set parameters for precise assignment of leads, so no opportunities slip away!
Get the best lead management
software in Australia
Use SalezShark lead management software customizable as per your needs.
Nurture & convert leads
Lead nurturing is an essential component of the sales process. Without effective and efficient follow-up, leads can easily slip away through fingers! To ensure your lead management efforts don't go in vain, SalezShark's automated software helps create personalized emails tailored to engage leads seamlessly - all at lightning speed.
Increase lead conversion through disciplined follow-ups with SalezShark! Readymade email templates enable you to quickly reach out and nurture leads. Generate interest in your products & services, plus keep track of reminders for calls, and demos - all while maintaining a stronger relationship with prospects & boosting the chances they'll convert!
Streamline your lead capture and nurturing processes with SalezShark's intuitive Lead Management System. Create a visual sales funnel to help you quickly identify prospects most likely to become customers -The top-positioned leads are the ones closest to conversion! Get an edge with SalezShark's drag and drop visual sales funnel! Prioritize leads, forecast estimated revenue, and make sure no stone is left unturned. Gain insight into your prospects in real-time to ramp up success - give it a try today!
Don't Wait More!
Get SalezShark lead management system Australia that is highly customizable.