Capture leads effectively with SalezShark lead management CRM
Lead capturing is not an easy task if done manually and also results in a huge loss of good leads. Nowadays leads are captured from multiple sources such as websites, landing pages, social media portals, calls, emails, and so on. In such a scenario capturing leads manually from all the sources gets difficult, time-consuming, and results in loss of good leads. However, once you deploy the SalezShark lead management system these challenges can be solved. SalezShark automates your lead capturing process. This platform helps you capture leads from all the sources in a few clicks. With a single sign-in on our platform, you can get all leads captured at one place in the SalezShark system.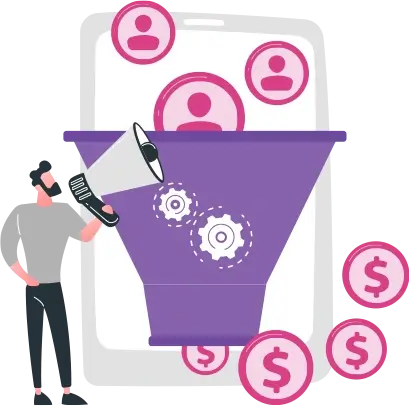 Track leads effectively SalezShark lead management CRM
If you are looking forward to maximizing your lead interactions, then it's necessary for you to have a lead management tool that enables you to track leads' activities effectively. Once your leads are captured, SalezShark also helps you track your lead information such as pages visited by leads; interactions leads made with your business previously, and so on. It helps you to keep a tab on every interaction made with leads that helps you to nurture leads further. Tracking of leads not only helps you to stay in regular touch with your leads but also helps you to nurture and convert leads into deals effectively.
Score & distribute leads
A random study suggested around 80% of marketing executives forward leads to sales executives without qualifying them first. Due to this many sales professionals waste a lot of their productive hours in nurturing and converting those leads and sometimes leads don't convert at all. Most of the time such leads are not interested in buying and in such a scenario for any sales executive it turns out to be a herculean task to sell anything. By nurturing such leads you not only waste your time and efforts but also decrease productivity and stain your brand image.
To solve such challenges of unqualified leads, you should deploy the SalezShark lead management system that helps in scoring your leads. SalezShark enables you to set certain parameters or rules into the system that automatically score leads. Once any lead enters into the system it gets a score automatically based on its quality and relevance to your business. This scoring system hence helps you in filtering and eliminating unqualified leads swiftly and offers only sales-qualified leads that can turn easily into paying customers. As the leads get a score it becomes easy for sales professionals to prioritize leads and based on that they can focus first on hot leads, later warm and cold leads.
Once your leads get a score you can transfer them to sales executives and now distributing leads among them is also a challenging task if done manually. To simplify lead distribution among sales professionals, you can set certain parameters or rules into the SalezShark system, and based on that lead is assigned to any particular sales executive. As this process gets automated so chances of leads falling through cracks during distribution also become zero and all qualified leads can be assigned to sales professionals in a few clicks. By automating the leads distribution process you ensure that leads are assigned to the right sales executive which maximizes the chances of lead conversion.
Get the best lead management
software in Australia
Use SalezShark lead management software customizable as per your needs.
Nurture & convert leads
Nurturing leads is one of the most crucial stages of the lead management cycle. Often sales professionals fail to do it effectively and lose the leads. Nurturing the leads involves a lot of patience, seamless communication, and creating curiosity among leads to know more and take interest in your products and services. To achieve this objective you should plan a robust follow-up with leads. This follow-up can be made through calls, emails, chat, and so on. Primarily follow-ups with leads are made through emails. SalezShark lead management software helps you in automating the process of sending follow-up emails to leads. It helps you to create and send personalized emails quickly that resonate with the needs and expectations of your leads. By choosing the readymade email templates from the SalezShark email template gallery you can create and send multiple emails to leads in a few clicks. While nurturing leads you need to educate your leads on your business products and services and generate curiosity among them to buy from you. Here you need to be in constant touch with your leads by doing rigorous follow-ups through emails. As we know "out of sight is out of mind", so to be in touch with your leads regularly you can schedule follow-up emails in the SalezShark system and also set reminders for follow-up calls, product demos, and so on. In this manner, you build strong communication and relationship with prospects and enhance the chances of lead conversion.
SalezShark lead management system not only simplifies and amplifies your lead capturing and nurturing process but also leaves no stone unturned in making your lead conversion process bring better results. It offers you an option to create a visual sales funnel into the system. This visual sales funnel helps you in amplifying the rate of lead conversion. Based on the chances of lead conversion you can place all your leads into the sales funnel from top to bottom. Leads with higher chances of turning into paying customers can be moved into the visual sales funnel from top to bottom. The drag and drop functionality helps you to do that easily. By arranging all your leads into this visual sales funnel you can keep a track of all leads together and the chances of missing out on any lead become zero. Above all, you can prioritize leads and work on those leads first that can be turned easily into customers and the rest of the leads later. SalezShark visual sales funnel is not only beneficial for sales executives but also helpful for senior sales professionals in forecasting sales accurately. Just by a glimpse of the sales funnel they can calculate the expected amount of revenue generation and sales figures that can happen in near future. Hence, the process of sales forecasting gets better and accurate with SalezShark visual sales funnel.
So, if you are planning to take your brand to next level and wish to amplify your sales in no time, choose SalezShark lead management system that is affordable, budget-friendly, can be easily customized as per your business & industry needs, and ensure the utmost safety of your data by offering cloud-based CRM with easy accessibility on mobile as well.
Don't Wait More!
Get SalezShark lead management system Australia that is highly customizable.