Trusted Among Industry Leaders






Customer Management Made Easy
SalezShark's customer management software makes it easier than ever before to track, filter, organize, and systemize your lead management. And with SalezShark Connect+ omnichannel outreach capability, you can then reach these leads on their own terms.
Convert emails
to contacts
Find emails from people search, and convert them into contacts(prospects) that you can follow up with.

Prioritize
prospects
With AI-based contact scoring, identify your hottest prospects based on their activities, previous engagement.
Run successful
campaigns
Deliver personalized campaigns based on your contacts' behavior and follow up on their responses from within the CRM.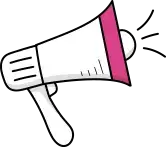 Provide unified
experiences
With the Customer-for-Life Cloud, gain insights about the different marketing touchpoints your prospects experienced.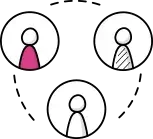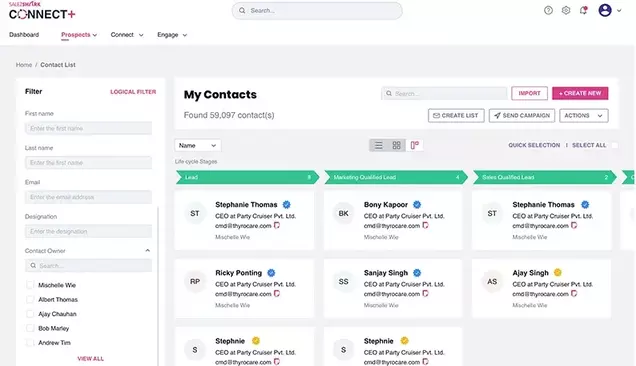 CONTACT MANAGEMENT
Communicate across channels
Save time by managing your contacts and communicating with leads from a central location regardless of where they are coming from.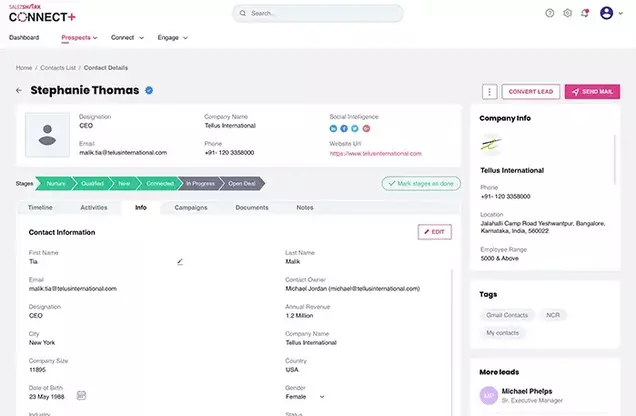 CONTACT LIFECYCLE
End-to-end Contact Lifecycle Management
Track your contact's sales journey and assign the appropriate team member to convert them into a customer.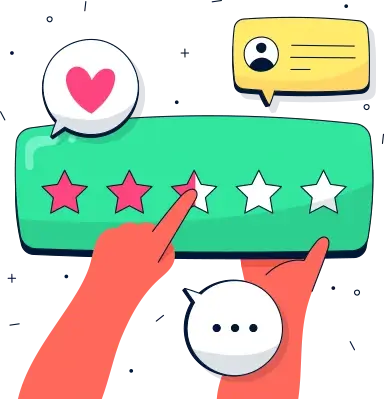 Use The Ultimate
Contact Management Software For Free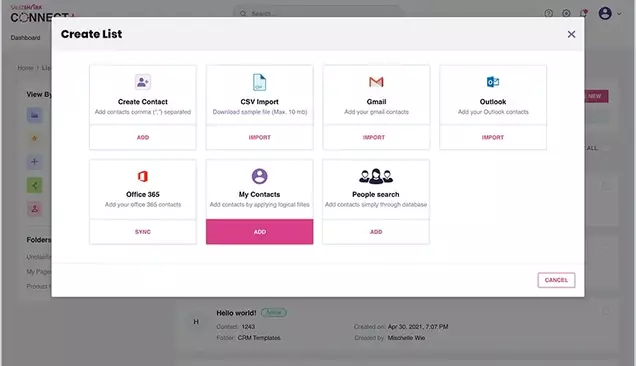 BULK IMPORT
Collect contacts from anywhere
Easily sync contacts from all your sources and email providers into SalezShark contact management software with a single click.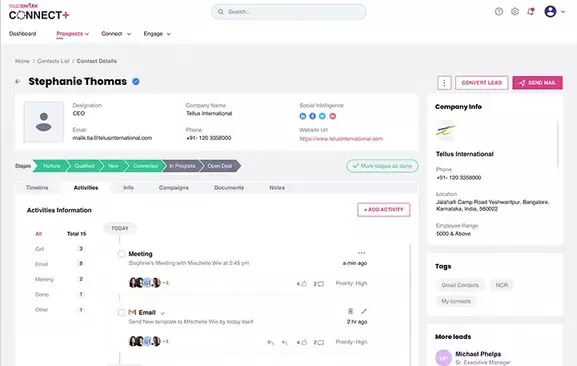 ACTIVITY TIMELINES
Nurture your contacts with relevant information
Get real-time updates on your contacts by tracking their activities on the timeline, based on their behavioral patterns.
Take a look at what our clients have to say

I have had exceptional service from SalezShark Connect after struggling with the complex & expensive marketing tool for 10 months. I have experienced handhold support at every step of my usage journey. I would highly recommend them to everyone.
Sr. Marketing Manager
Legal Services

SalezShark Connect is intuitive to use, and well laid out. Their support system is available 24/7 on mail, calls & chat. The easy accessibility of tracking engaged visitors, new leads and clients is a blessing for us to serve our customers more efficiently.
Sales Head
Travel & Tourism

The tool is indeed simplest and fabulous to use. It makes our communication look professional and at the same time provides detailed analysis and reports that assist us in tracking the engagement.
Content Strategist
Digital Agency

We really appreciate the contribution of SalezShark Connect in helping us to become 'automated' in our marketing initiatives. The workflow automations are well-versed and replaced my 5 other existing tools for being connected with both customers and new leads.
CMO
Real Estate Company
Frequently Asked Questions
What is Contact Management?
Contact management is the process of organizing and maintaining contact information. This can include anything from personal contacts to business leads. In the business world, contact management is often used to track potential customers and partners. By keeping detailed records of interactions, businesses can build strong relationships with their contacts. Contact management software can automate many of the tasks associated with maintaining a database of contacts. This includes tasks such as sending out mass emails and tracking customer interactions. When used correctly, contact management can be a powerful tool for keeping track of important business relationships.
What are the benefits of a contact management software?
A contact management software can be a great asset for any business. It allows you to keep track of your customers, clients, and vendors in one central location. This can be especially helpful if you have a large customer base or if you work with clients in different time zones. A contact management software can also help you to stay organized by keeping track of important dates and deadlines. In addition, a contact management software can help you to keep track of your sales pipeline and manage your sales team. By using a contact management software, you can save time and increase your efficiency.
What is the difference between contact management software and CRM?
Contact management software is designed to help users store and organize their contacts. This can include personal contacts, such as friends and family, as well as business contacts, such as clients and suppliers. CRM, or customer relationship management, software is a type of contact management software that is specifically designed for businesses. In addition to storing contact information, CRM software also provides tools for managing customer interactions, tracking sales opportunities, and measuring customer satisfaction. As a result, CRM software can help businesses to better manage their relationships with their customers.
Which contact management features do I need as a small business?
As a small business owner, you need to be able to stay in touch with your clients and customers. A good contact management system can help you keep track of your contacts and manage your interactions with them. There are a few key features to look for in a contact management system:
First, you need a system that can import and export contact information. This way, you can easily add new contacts and keep your existing ones up to date. Second, you need a system that allows you to keep track of your interactions with each contact. This includes phone calls, emails, and meetings. Third, you need a system that lets you set follow-up reminders. This way, you can make sure that no contact falls through the cracks. Finally, you need a system that integrates with your email and calendar. This way, you can easily schedule appointments and send messages to your contacts.
With these features in mind, you should be able to find a contact management system that meets your needs as a small business owner. SalezShark Connect+ might be one such software to try, as it has been built specifically with small businesses in mind. It is simple, affordable, and intuitive, all of which are indispensable qualities for a small business. And you can start free!
When should I get a contact management software for my business?
When you first start your business, you may be able to keep track of your contacts manually. However, as your business grows, you will likely find it difficult to keep up with all of the different people you need to stay in touch with. This is where a contact management software can be beneficial. A good contact management software allows you to store information about your contacts, such as their name, address, and phone number. It also helps you to keep track of important interactions, such as phone calls and emails. In addition, a contact management software can help you to schedule follow-up contacts and reminders. As a result, it can save you a considerable amount of time and frustration. If you find yourself struggling to keep up with your business contacts, it may be time to invest in a contact management software.