If you're managing a business account or brand page on social media channels, you need to be organized and systematic about your content. One of the best ways to do this is by creating a social media calendar, which can help you plan ahead and keep track of what content has already been posted. As a result, you can plan your content in advance systematically, to maintain a seemingly-effortless stream of high-quality content. You don't have to worry about repeating yourself or missing important dates, allowing you and your team to focus on stuff that really matters: forging those invaluable customer relationships, especially if you have a B2B business. Let's break down how you can create an effective social media calendar for your business or brand.
What is a social media calendar?
How can you create a social media calendar?
Why create a social media calendar?
Best social media management tools
Free social media calendar template to save your time.
What is a social media calendar?
A social media calendar is a useful tool for efficiently planning a company's marketing posts on popular platforms such as Linkedin, Facebook, Twitter, and Instagram. It helps organize the posting of photos, videos, blogs, and other content in order to reach ideal audiences. This can be organized monthly or weekly, depending on the frequency of posts and how quickly a company wants to communicate its message. A social media calendar also enables businesses to align their content with important dates such as national holidays and seasonal events. Beyond post-planning and scheduling content, this type of calendar can also track analytics about each post's progress and popularity so businesses can monitor their impact over time.
How to create a social media calendar?
A social media calendar should include a set schedule outlining what type of content you will publish, when you will post, and which platforms you'll use. When deciding on content types, think of ways to add variety or rotate between different types such as stories, videos and polls. You should also consider the importance of timing – when is your ideal posting time for each platform? Setting goals is another key element for your planning – make sure to generate metrics that demonstrate success so that you can measure your social performance over time.
Why create a social media calendar?
Simply put, today with tons of SM platforms and over 300,000 posts made per day, a social media calendar is an integral part of effective content management. The formula is as easy to formalize the process of creating and publishing content by reforming the structured schedule to work with. Not only does it allow publishers to maintain consistency in their messaging, but it also streamlines the process of publishing regular, quality content.
Following can be optimized by having the calendar handy:
1. Plan posts in advance. Visualize before what you need to write as per the objective aligned to the company goals
2. Brainstorm social posts.Conceptualize with cross-functional team and competitors to brainstorm prospective social media posts and get new voices in your social media channels presence.
3. Keep tap of important upcoming Dates. Track relevant company dates, like any new product launches, features update, client journey, appreciation etc to share the post ensuring the relevant followers for your
4. Update the latest hashtags. Keep a running list of relevant hashtags, with a new ones to keep the bouncing effect on your posts
5. Schedule and coordinate posts. Keep a thought leadership open for others from the management. Track their contributions and your engagement in a central place.
6. Plan visual content in advance to make your posts bloom with a freshness and the relevancy
7. Social media metrics. Track how your posts are doing and keep engagement metrics on-hand so you can set and achieve your goals.
Perhaps most importantly, creating a social media calendar gives publishers a chance to step back and consider their content holistically – helping ensure that each post fits the desired narrative for brand growth.
Best social media tools out there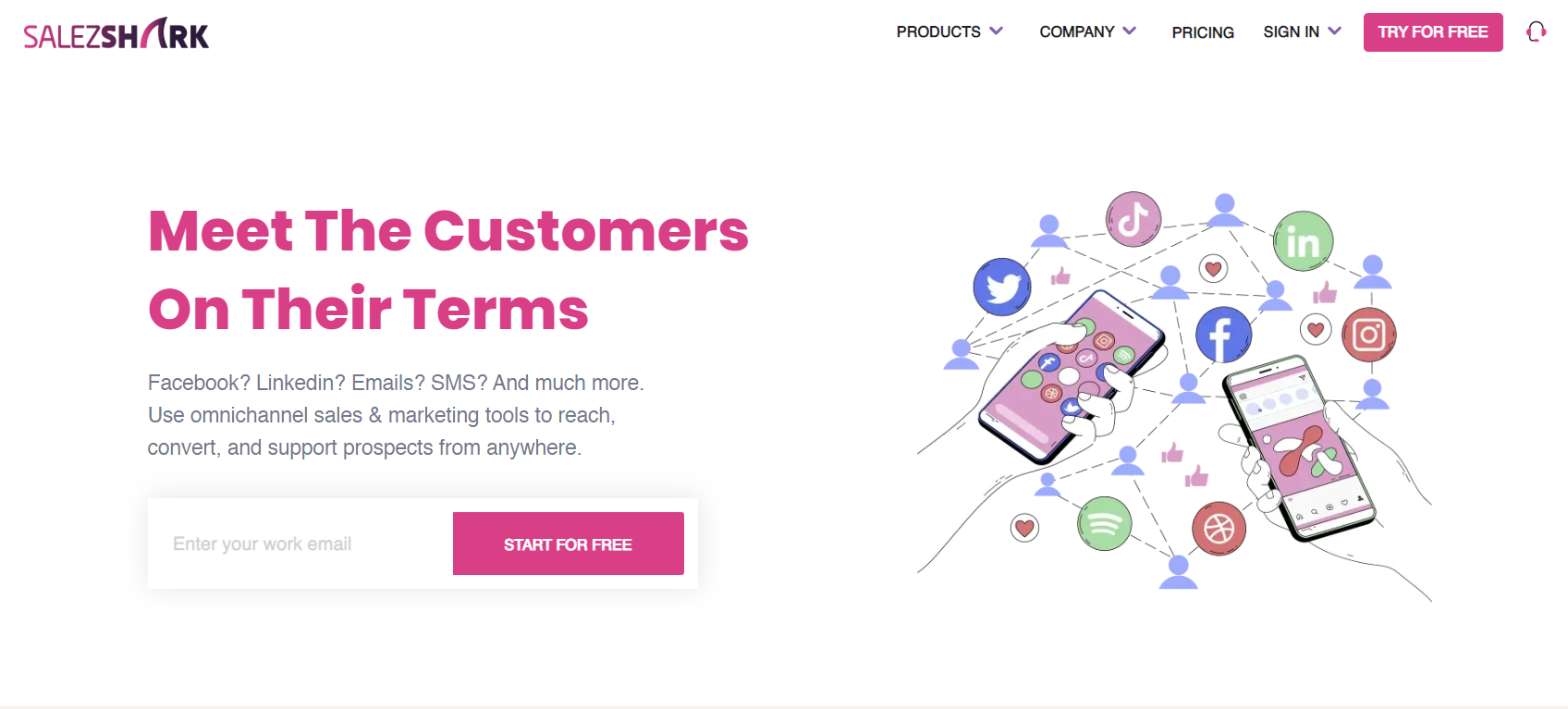 SalezShark is an all-in-one sales & marketing platform that helps businesses like yours build a brand and forge everlasting customer relationships seamlessly. With innovative product offerings blended with intuitive design concepts and seamless integrations, SalezShark is fast becoming the go-to choice of many savvy companies across the world.
SalezShark Connect Plus – the all-in-one marketing tool – provides marketing teams with everything they could ever need from marketing automation to social media scheduling to a staggering 15M+ strong B2B database all in one place.
And with over 1600+ customers & numerous industry awards, we come to you to drive up your leads, boost your sales, and help you forge everlasting customer relationships.
Get a free template on us!!
No time to create a social media calendar, no problem. We got you! Here's a proven social media calendar template (we use it ourselves too!) that you can use to better organize your social media activities right away. And if you have any questions, be sure to contact us at contact@salezshark.com.
Finish Strong With A Free Social Media Calendar Template On Us!