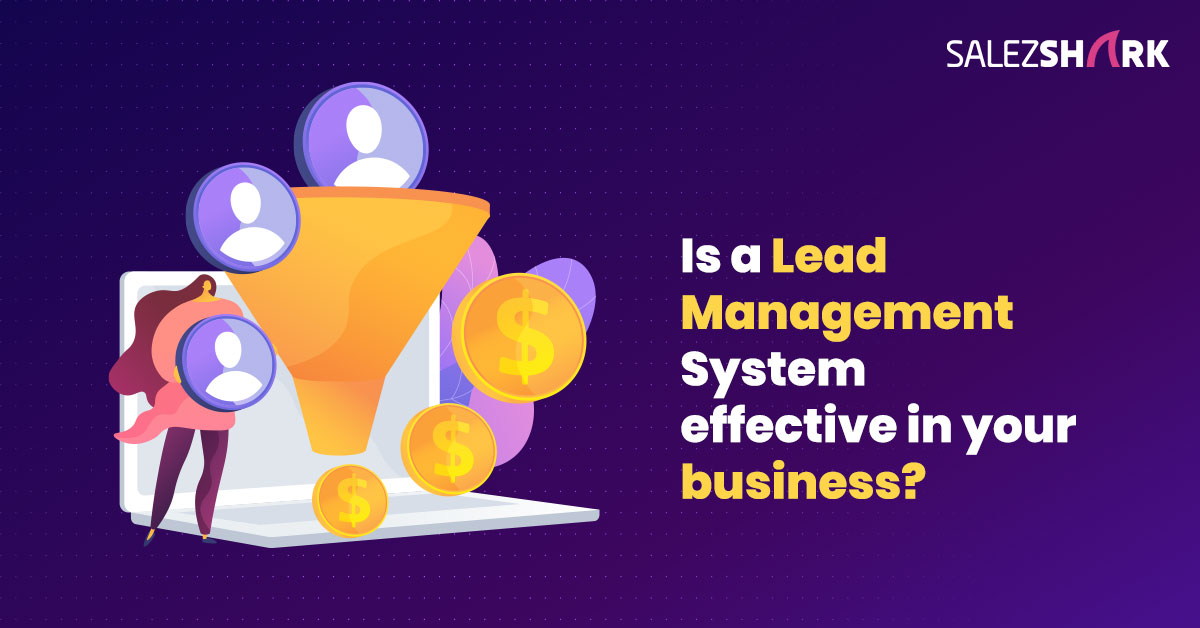 Do you also think that leads are the lifeblood of your business to generate high revenue? Yes, leads are your prospects who express their interest in your products and solutions but have not yet purchased it. When at the first time you start a business, you just have a few leads. Then, as you expand and scale your business, your sales staff start receiving more leads than they can manage. Gradually, your team finds it difficult to drive more leads correctly and provide them the attention they require, and things begin to slide through the gaps. The best lead management system comes into the equation here.
What exactly is lead management?
Lead management is the practice of handling leads consistently and equitably.
That, however, is an old-school attitude. Lead management procedures in the current day do much more than merely handle leads. In reality, by combining sales and marketing, they directly influence lead management to sell. 
According to lead management, lead management is the process of gathering information, tracking their actions and behavior, qualifying and interacting with them until they are ready to be handed on to quota-carrying sales leaders.
Again, this appears to be a straightforward enough task. However, lead management is a complex process, especially when the quantity of leads is large. To explain why we need lead management, consider a basic scenario of a new firm.
Businesses generate leads from various sources and channels, including their website, advertisements, cold calls and emails, events, etc. With today's lead-generating techniques spanning several tracks, it's vital to have an efficient lead management system in place. If you believe that a spreadsheet or a basic contact database would suffice, you are thinking in the short term. 
However, you are not alone. Many organizations struggle to convert leads to clients because they can't tell the difference between hot and cold leads (Lead scoring: What and why do you need it?). As a result, people wind up passing up possibilities. Applying lead management gives you the main governance for handling customer data, rating leads, communicating with them, cultivating them continuously using the best lead management software.
Step 1: Obtaining Leads
Businesses create leads using a variety of online and offline channels, including email, social media, webinars, sponsored commercials, trade exhibits, and many others. It is impossible to manually enter these leads into your CRM software, especially when the colossal volume is. 
A strong lead management system guarantees that every lead from web forms, emails, and chat is immediately fed into the system, preventing authorities from dropping through the gaps. 
It also records the source, allowing you to determine which marketing initiatives are effective and which are not. Responding to website visitors as soon as possible is becoming increasingly vital in today's sales. Because if you don't engage with people while they're interested, they're likely to leave your site. 
You may use assignment rules to assign conversations based on circumstances to a sales rep or a group, ensuring that the proper chats are sent to the right agents.
Step 2: Lead enrichment and follow-up
When a lead is collected, the sales lead management software initiates the CRM lead tracking function, automatically recording the lead's activities and behavior. The lead tracking software provides a complete tracking report of a leader, containing information such as the sites they lead viewed, the forms the lead filled out, the time the lead spent on your blog, etc. 
This way gives you insights into your collected leads, allowing you to get to know them better. Nowadays, free lead tracking software is also quite helpful in tracking phone or chat discussions with leads.
Step 3: Qualification of the Lead
Leads are generally assessed based on their interest in your product/serve present position in the purchasing cycle, fit with your company.
Your sales team will be able to quickly differentiate qualified and unqualified leads by assigning scores to charges based on their job title, country, behavior on your website and product, and engagement with your email by assigning scores to charges based on their job title, country, and engagement with your email. 
Using scores to qualify leads helps salespeople to focus their efforts on pursuing the best sales leads for your company. When a leader interacts with your company in any way, opening an email, visiting your website, etc. their lead score is updated. This provides you with a thorough grasp of their degrees of interest.
Step 4: Distribute leads
When your company is tiny, you know your sales staff like the back of your hand, so manually sending leads to the appropriate salespeople is simple. However, as your sales force grows and numerous leads increase, this old-school strategy will cause the lead response to ease. 
The sooner your salespeople contact the leads, the more probable it is that they will purchase from you. A decent lead management system should ideally be able to automatically allocate leads to sales agents based on predefined criteria. Your sales team may prioritize their leads effectively by distributing them to the appropriate areas and sales agents.
Step 5: Take the lead in nurturing
In a perfect environment, each lead would convert into a paying customer. However, not all of your information is sales-ready. Many of them may still be in the research or awareness stage, determining whether your product/service would meet their needs. You may send nurturing campaigns to these leads if you have a lead management mechanism in place. 
You may educate and illustrate the value of your product/service by delivering relevant material, promotional offers, and so on to your leads, which will nudge them ahead in their decision-making process. You may utilize sales campaigns in Fresh sales to build, deploy, and track these customized nurturing programmers.
Advantages of Lead Management System
Talk to the proper people: The SalezShark lead management system allows you to focus on sales-ready leads, boosting sales potential.
Participate in the context: When salespeople have the required context, they can interact effectively with leads and increase the quality of discussions.
Increase response time: You must be present where your clients are. With a lead management system in place, you can contact prospects by phone, email, or even chat, gain quick information about their purchasing intentions, and boost your chances of closing the deal.
Increase productivity while maximizing ROI: A comprehensive lead management system may assist in prioritizing and assigning the correct leads to the right sales agent and lead leakage, allowing them to do what they do the best seller!
Be more responsible: Lead management system helps to ensure responsibility at every stage of the sales process. You may gain insights into data such as the regions producing the most leads, the response time of each sales rep, and so on by creating the correct reports.
Conclusion
The finest lead management software on this page assists you in achieving your objectives by educating you on lead management tactics. The lead management system is a one-of-a-kind method of developing a seamless interaction with leads that any organization, no matter how small, medium, or large, and no matter what industry, must employ.
SalezShark experts offer you proper assistance in various business activities, from relevant lead generation to lead distribution to appropriate sales employees. It helps your team in focusing more on revenue-generated sales activities by gauging the quality of leads based on their customers' personas and purchasing probability.
Most significantly, SalezShark lead management tool helps your company to nurture leads efficiently and in a tailored manner. This automation tool enables you to provide your prospects with a great experience.
So, are you ready for the great assistance and guidance of the SalezShark Lead management system for your business?