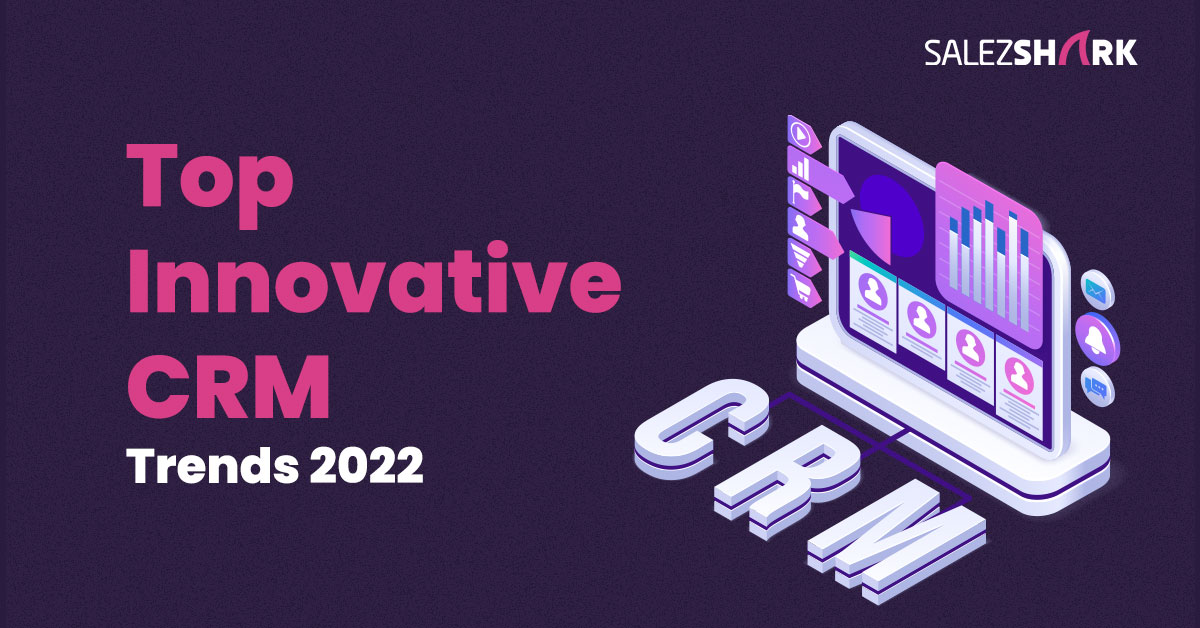 Before directly coming upon the top innovative CRM Trends 2022, let's talk about connectivity between any business and its customers. Today, businesses revolve around customers than before. And an excellent customer experience is the biggest challenge for every organization.  
Offering a better customer experience as compared to your competitors can increase the loyalty of your platform, attracting more prospects at the same time. Taking care of this, companies try to either buy a new CRM or upgrade their existing CRM since customer relationship management has become a key element in any business' success.
The future of CRM has finally arrived in this fastest-growing era of technology where an intelligent & integrated CRM is much brighter. 
From small companies to large organizations, sales and marketing teams are taking support of the best CRM software to deliver highly personalized customer experiences. CRM Technology provides new opportunities to improve your customer experience that is the real treasure behind your success. Let's see some top CRM trends 2022 to prepare your business accordingly.
Top CRM Trends 2022 – What should you expect?
The best CRM technology like SalezShark makes use of mobile-friendly, cloud-based, and AI-optimized software. The top CRM software in India gives your company the unique ability to create a customized customer experience.
The future of CRM trends 2022 can be seen in many ways such as deeper insights propelled by AI, adoption of blockchain technology across enterprises, workflow automation, voice recognition, and more robust customer data integration.
Artificial Intelligence 
The foremost CRM trend 2022 is artificial intelligence that applies across a spectrum of different technologies like predictive analytics, machine learning, robotics, and natural language processing. 
The leading CRM vendors just like SalezShark, Hubspot, Zoho CRM have been making a large-scale investment in acquiring and building new capabilities that support AI to analyze customers and optimize interactions with them. 
Artificial intelligence is the best free CRM software in India is the primary catalyst of customer intelligence CRM's growth and will be for the next four years to offer more effective customer experiences.
Workflow automation
When you define work tasks to satisfy your customers' needs, no matter whether they should be performed either by humans or a machine, your organization must be able to better serve your customers. 
Workflow automation is a series of simple steps that tell various actions that need to be performed. Sales and marketing automation suite is the primary service of SalezShark Engage & Connect+. It gives diagrammatic tools like low-code tools, process tools that can be better utilized by small business-oriented resources.
Mobile CRM Application
In this period of the Covid-19 pandemic, there has been so much trouble and chaos across the whole world since 2020. It calls for the importance of being able to provide strong CRM functionality to access work information remotely. 
Remote accessibility is a key in technological spaces and countless software, therefore, the CRM tool is more likely to become highly preferred by introducing one of the best CRM trends 2022 i.e. mobile CRM applications just like SalezShark to collaborate remote workers all around the world.
SalezShark CRM software is going to follow CRM trends 2022 that will allow businesses to work in an online as well as offline environment efficiently.
Blockchain Technology
An ongoing list of interconnected records called blocks defines the whole process of blockchain. It creates a decentralized ledger that follows a verified procedure to track transactions between parties. 
Blockchain makes use of network keys that limit any unauthorized access to ensure full security in the entire process. Cloud-based CRM platforms have gotten better but still, work upon a centralized security approach. This blockchain technology stores and encrypts customer data and allows enterprises to have control the level of data. 
Voice and Conversational UI 
Voice recognition technology is one of the key CRM trends 2022 for easy data accessibility, creating a more enjoyable experience for users. The voice-enabled devices have increased sales up to 1 million. So, small-medium enterprises can make a lot of money through voice and conversational UI. Voice can better track your customer data and help you to understand what do your customers want and how do they speak? It is both useful and profitable since recent Adobe research on voice technology depicts that around 94% of users make use of voice technology to save their time and thus improve their quality of life.
How can your business use these CRM trends throughout 2022?
We have gone through the importance of the SalezShark CRM software and the CRM trends 2022 that will pave a promising road to success for your business. Now, it's time for you to understand how should your business team members be using these CRM trends to gain a full advantage? 
Sales teams 
The sales team can use the SalezShark CRM to better understand and run their sales pipeline. They can easily analyze their customers' needs and choose the appropriate method to interact with them. Sales managers can also track their teams' performances to improve the strategies as per the arriving CRM trends 2022.
Forecasting 
The marketing team can employ the best use of CRM tools to forecast sales trends and prospects' interests correctly. New CRM trends 2022 can help them to acquire the best marketing opportunities to get more leads for their company. SalezShark comes among the top 10 CRM software in India in following customers' journeys and identifying targeted areas to win more potential customers who are ready to buy your products, allowing your team to quickly understand all the areas of your sales pipeline.
Customer service 
The right CRM software always allows you to see all customers' conversions, times of interactions to allow your customer support team to provide the best customer experience they need. It will help your business to create a beautiful customer journey with your brand.
HR department
HR team usually struggles with the recruitment process or tracking employees' performances? The free CRM software in India allows the HR department to manage all the candidates and staff retention with instant data access.
What are the final thoughts on upcoming CRM Trends 2022?
Organizations need to adapt to the CRM trends in 2022 to move ahead in multiple directions and beat their competitors. CRM is a 'future empowered' technology, where businesses can opt for more options to strike the perfect balance for their company. Adopting new emerging innovations helps to build meaningful customer relationships that offer satisfactory customer service across different channels. Marketers must be Lil bit more careful to get ready for a chance to stay on the front foot of the best CRM software for small businesses in India.