Put simply, Customer Relationship Management is how a company keeps track of its network. Customer Relationship management is essential for growth because a company needs to know how many new clients they're bringing in, how many leads they have, and which current customers they need to follow up with so that they don't lose them.
How to best use Customer Relationship Management?
There are many aspects to Customer Relationship Management, but the most important aspect to any startup should be leads. Leads are potential customers, and customers mean growth.
A good Customer Relationship Management tool is capable of finding leads far and wide, and that's exactly what you should be using them for. The best way to find these leads is through social media marketing, email/text message marketing, and SEO (search engine optimization or appearing in google search results to put in simply). Now, a good customer relationship management tool would provide all these functionalities and more. A great CRM, however, would make all these tools easy to use and affordable.
Now, in terms of functionality, platforms like HubSpot and SalezShark have powerful email automation tools with massive customer databases. The latter, for example, provides an extensive 'customer discovery' module that provides over 15M+ data points for users, so it's almost impossible not to find prospects in their own target vertical. With the ability to filter out certain companies and people based on their industry, users can reach people from India to Australia to right here in the US-of-A (woohoo!). Email automation tools like these allow businesses to reach customers en-masse, while ensuring that those messages end up in the receiver's inbox as well — trust us when we say that you don't want to be flagged and enter the spam folder!
Search engine optimization, however, is another beast. Nowadays, a ton of CRMs provide no-code landing page builders, with tons of prebuilt templates. This allows users to create standalone pages that are optimized for converting inbound traffic when they land on said page, hence the term landing page). While tools like wordpress and unbounce, are built almost solely around this service, and don't get us wrong, they would be great for more extensive SEO needs, we recommend all-in-one CRM solutions for beginners because they provide multiple services for the same price.
Why Salezshark?
For starters, there's the price. HubSpot charges $350+ for access to 10,000 contacts, compared to $40 for SalezShark, less than half the price! We have even run special promotions for startups and pre-revenue businesses where we provide our software for as little as $8!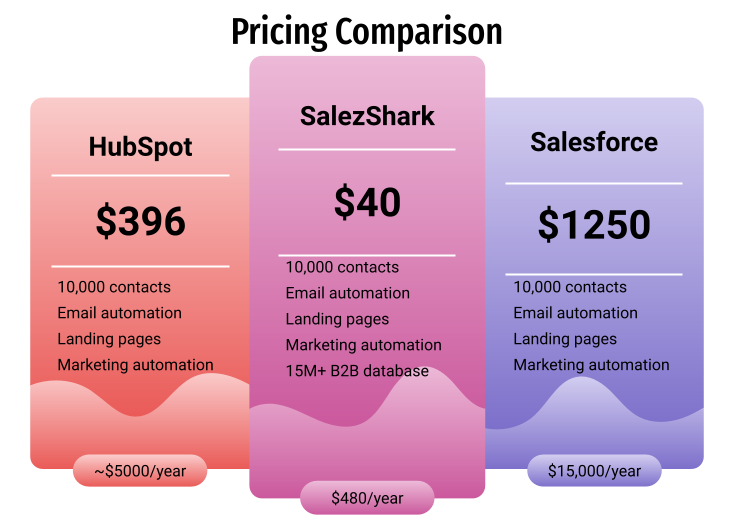 Then, there is the complexity. Ever used Salesforce? They actually have a special Salesforce certification for people that are pros at using the platform! Now, ask yourself, are you willing to hire a person just for using Salesforce — that's like an additional $50K on your balance sheet. Why would you? SalezShark, however, is as simple as they come. In fact, it was specifically designed for small businesses and startups.
Finally, there is the belief. SalezShark was built with a singular goal in mind: To look out for the little guy. Our sales, marketing, and customer service tools are meant to be simple, affordable, and intuitive so that anyone (ANYONE) can sit down and get going with their marketing needs at the push of a button.
Other Aspects of Customer Relationship Management:
#Analytics
Knowing where your customers are coming from is another huge part of Customer Relationship Management. Great CRMs let you know where your customers are coming by providing detailed reports and analytics, so that you can optimize your sales and marketing processes. Case in point, do you want to know who clicks the links in your email, who never opened the messages, or perhaps you want to know who signed up for a free trial. Enter CRM!
#Teamwork
Finally, there is teamwork. The ability to work together and communicate sales and marketing information as a team is a hallmark of customer management platforms. You can track your sales team's performance, assign leads, manage tasks, and give different levels of software access to employees.
Bottom line is that, while Customer Relationship Management tools are not required for a business to be successful (people were building business thousands of years before they existed!), they can help you save valuable time and resources that may be put to better use elsewhere.