LinkedIn is a powerful tool for businesses of all sizes, but it can be especially valuable for small and medium-sized enterprises (SMEs). With over 610 million users in 200 countries, LinkedIn provides SMEs with a massive audience to reach with their marketing messages, and LinkedIn Message Ads (LMAs) are a great way to do just that.
In this blog post, we'll take a look at what LinkedIn Message Ads are and how your SME can use them to reach your target market. We'll also provide some tips on getting the most out of your LinkedIn Message Ads campaign. So let's get started!
What are LinkedIn Message Ads?
LinkedIn Message Ads are a type of sponsored message that businesses can send to targeted LinkedIn users. These ads appear in the recipient's inbox, just like any other message on LinkedIn. But unlike other messages, LinkedIn Message Ads allow businesses to include a call-to-action (CTA) button. When recipients click on this button, they're taken to a landing page where they can learn more about the product or service being advertised. Here's an example of a CTA (Learn more in the image below):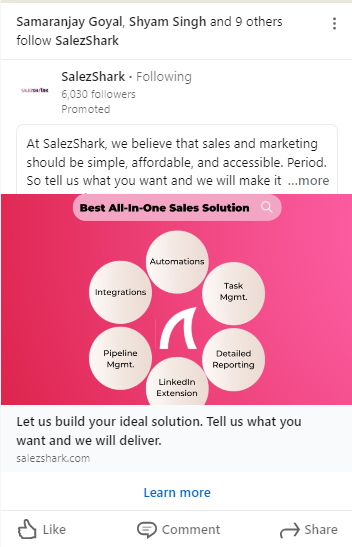 And here is the landing page you would have landed on had you clicked 'Learn More.'
LinkedIn Message Ads are an effective way to reach your target market on the world's largest professional networking site. And because they appear in recipients' inboxes, they're less likely to be ignored than other types of advertising. That said, there are a few things you need to keep in mind if you want to get the most out of your LinkedIn Message Ads campaign.
Tips for using LinkedIn Message Ads effectively
1. Keep your messages short and sweet: Because LinkedIn Message Ads appear in recipients' inboxes, you need to make sure your messages are concise and to the point. No one wants to read a long message from a business, so keep your ad copy short and sweet. Get straight to the point and include a CTA so recipients know what you want them to do next.
2. Use high-quality images: Just like any other type of online advertising, the images you use in your LinkedIn Message Ads should be high quality and relevant to the product or service you're promoting. Don't use generic stock photos—use images that will grab attention and help tell your story. Now, for optimality, such as ensuring the image is responsive (can adjust to the screen size), high quality, and yet does not take long to load, LinkedIn recommends that the creative be 1080 x 1080px.
3. Target your audience carefully: One of the best things about LinkedIn is that it allows you to target your ads very precisely. When creating your LinkedIn Message Ads campaign, take some time to consider who your target audience is and what kinds of messages they would respond well to. Then use LinkedIn's targeting options to make sure your ads are only being shown to people who are likely to be interested in what you have to offer.
4. Test, test, test: You know, I cannot recommend this enough. Every marketer to investor to any successful entrepreneur follows the same path to success, a path that is nowhere better illustrated than billionaire investor, Ray Dalio's book, Principles (mage below). Set goals > Develop trackable KPIs for measuring your progress > Develop a strategy > Execute the strategy > Learn > Optimize. Period. Oh, and be patient: success never comes overnight.
Try out different headlines and CTAs until you find something that works well with your target audience. Then measure the results so you can continue refining and improving your campaigns over time.
To wrap up, make sure your messages are short and sweet, use high-quality images, target your audience carefully, and test different versions of your ad before settling on a final design. By following these tips, you'll be well on your way to success with LinkedIn Message Ads! You will need a LinkedIn business account, which you can create by following this link, and can go through a step-by-step walkthrough on how to set up your ads by visiting this link. If you have any questions and/or need help with setting up your ads, don't be afraid to contact us at Contact@salezshark.com.